What happens when you're deported to Britain? – BBC News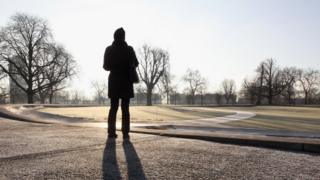 A widowed mother-of-five who has lived in Australia for most of her life is facing deportation to the UK. What awaits her when she gets off the plane, asks Claire Bates.
Kelly Webb, 30, hasn't seen Britain since she moved to Australia at the age of two. But she has a British passport, so could be sent back to the UK after serving a prison sentence for burglary.
It's not an unusual situation. In 2015, 71 out of the 134 deported prisoners helped by the charity Prisoners Abroad had been residents of Australia, Canada or the US for many years.
The charity is the first point of call for prisoners facing deportation, and guides clients through the resettlement process.
"Many of them don't consider themselves to be British and don't want to leave their home and family," says Theresa Gilson, head of service delivery at Prisoners Abroad. Some are in denial, she says, and are reluctant to sign up with Prisoners Abroad, but the charity can only provide support to those who register before they enter the UK.
"We tell them to sign up because they need to have a Plan B if they do get deported. Otherwise when they get off the plane they are on their own."
Most ex-prisoners touch down in Heathrow or Gatwick Airport, both of which have officers of another charity, Travel Care. An agent there can help the new arrivals negotiate the transport system and get to the London office of Prisoners Abroad.
"It's all about managing the crisis," says Gilson.
"When they arrive we assess their needs and work out an action plan. We help them get access to a doctor and find a cheap hotel or hostel if they have nowhere to stay."
The charity provides emergency grants for ex-prisoners with no money. This is essential as they usually can't go to food banks or access other emergency care provided by local authorities.
"They don't qualify for local authority support as they haven't lived in the area before," says Gilson.
"The system is not set up for these kinds of people. They can fall through the gaps very easily."
It can take up to a month to get a National Insurance number, and four-to-six weeks can pass before people start receiving benefits. The charity helps clients find more permanent accommodation about six weeks after their arrival – then they can apply for a bank account, which requires proof of address.
Not all the help is practical. Each client has a resettlement officer who also provides emotional support. New arrivals can meet those who have already gone through the difficult process at a monthly support group.
"They can feel incredibly isolated," says Gilson.
"Coming out of prison is complex and challenging enough but added to that they have the trauma of loss and separation from all that they know."
The charity closes a client's file after six months, although they can continue to receive guidance for three years.
"I've had people call me who are still struggling after two years," says Gilson.
"They may be managing but they don't feel British and miss their families. It's a hidden problem in society."
Follow Claire Bates on Twitter @batesybates
Subscribe to the BBC News Magazine's email newsletter to get articles sent to your inbox.
To read more copy this link into a new tab: http://www.bbc.com/news/uk