Warm seas threaten Great Barrier Reef treasure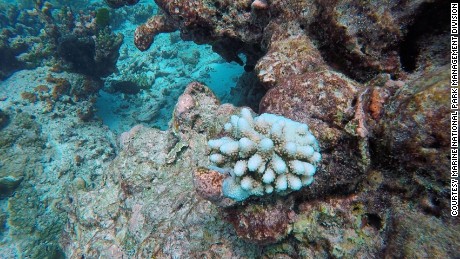 (CNN)Rising sea temperatures have led to mass coral bleaching in the Great Barrier Reef, Australian scientists say.
The scientists say their
findings
point to climate change as one of the causes behind the coral bleaching.
The center director Terry Hughes said: "This year is the third time in 18 years that the Great Barrier Reef has experienced mass bleaching due to global warming, and the current event is much more extreme than we've measured before."
There has been a 35% average death toll for the coral reefs at the World Heritage site that stretch for 2,300km (1,429 miles), according to the survey.
Without the reef, Australia would likely lose a $6 billion tourism industry, alongside endangering food security in the coastal region, Pandolfi said. "Would tourists want to go look at dead reefs?" he wondered.
"Global gas emissions need to be brought down under control" in order for the bleaching to cease, Pandolfi told CNN.
But climate change isn't the only cause behind the phenomenon. Coral reefs tend to get "stressed" by different elements which slow down their growth and make it harder for bleached coral to regenerate, he explained.
Some of these stresses are man-made, such as farming pollutants, fertilizers and pesticides which get dumped into the sea. Over-fishing, erosion and coastal development also play a part, he said.
"If we can keep the non-climate stressors to a minimum, the reefs will be in much better condition to cope with future global warming," said Pandolfi. "We have to treat ocean and land as an integrated unit."
Australia is the latest country to declare a coral bleaching crisis. Thailand recently
closed down
diving sites
due to the same phenomenon.
To read more copy this link into a new tab: http://edition.cnn.com/