Venice Architecture Biennale 2016: What is architecture actually for?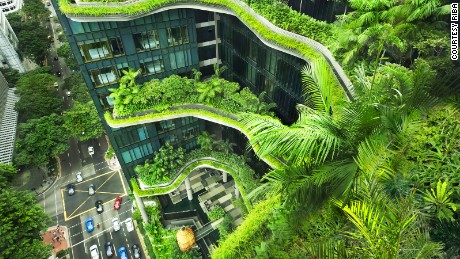 (CNN)The most prestigious architectural exhibition in the world takes place every two years in a semi-abandoned shipyard and its adjoining garden. This shabby-chic affair is the Venice Architecture Biennale; a colossal exhibition comprised of one major installation by a significant architect, as well as a multitude of smaller shows put on by individual countries (known as the national pavilions).
To do this, the Biennale selects an architect to curate the exhibition, and asks them to set an overall theme for the national pavilions. In the past, the nature of this theme has varied enormously. The Japanese architect Kazuyo Sejima opted for the straightforward observation "people meet in architecture," while Briton David Chipperfield sought a general "common ground." Most recently, Rem Koolhaas chose the rather precise historical theme of "absorbing modernity, 1914-2014."
Reporting from the frontlines
At @labiennale, the British Pavilion imagines new new models for domestic life in response to the UK housing crisis. Portable bubbles, communal closets… Is this how we'll live in the future?
For 2016, the Chilean architect (and recent Pritzker Prize laureate)
Alejandro Aravena
has challenged the world of architecture to "report from the front" — calling on each country to define its own "frontline of architecture." While this might seem less constricting than Koolhaas, in fact Aravena has tried to change the entire definition of architecture. In his curatorial statement, he focused on the global forces promoting individual gain over collective prosperity, and lay down a challenge for architects to "look at reality" and to "imagine different and alternative solutions."
Aravena has asked the national curators to look at the biggest challenges facing their countries, and then to form a plan for how they might be able to help. The nature of these issues could potentially vary enormously, from food security to mass migration, or from illiteracy to social wealth polarization.
What makes this unlike previous approaches is that these are not intrinsically architectural subjects. In fact, architects really struggle to address these types of conditions with anything near the scale required.
Rather, Aravena is subtly pivoting the entire subject of the Biennale from a study of architecture in society to the humanitarian role of the architect as a social figure. At the same time, he is dissolving the ideal of a universal condition for architecture and arguing that an accurate worldview assessment can only stem from precise regionalism. The militant and activist overtones of the brief recall the old protest slogan "think global, act local."
Britain in crisis
As far as we are aware, it is also the first exhibition on architecture to be curated through time in the home. Each of these five models addresses a different facet of our "frontline" crisis of living, from how to prevent speculation and exploitation in real estate markets to how sharing can be a form of luxury and not a compromise.
Each model has been developed in an intensely pragmatic and totalizing way, by harnessing the expertise of diverse advisers and collaborators ranging from developers and financial institutions to engineers, architects, artists, fashion designers, photographers and filmmakers.
Not only has Home Economics produced a wealth of research, artistic and cultural output, some of its collaborations may result in new kinds of built work. This focus on reality, and dedication to sincerely improving the lot for the British, is extremely important if we are to seriously address how we might live in the future.
Jack Self is a Curator and the Artistic Director of Home Economics, the British Pavilion exhibition for the 2016 Venice Architecture Biennale, which runs from 28 May — 27 November. The exhibition has been curated by Jack Self, Shumi Bose and Finn Williams, and was commissioned by the British Council.
To read more copy this link into a new tab: http://edition.cnn.com/