Trump viewed more unfavorably than Putin in most countries, survey finds
Pew Research report finds Donald Trumps ratings outside the US are strongly negative and that confidence in Hillary Clinton and Barack Obama is high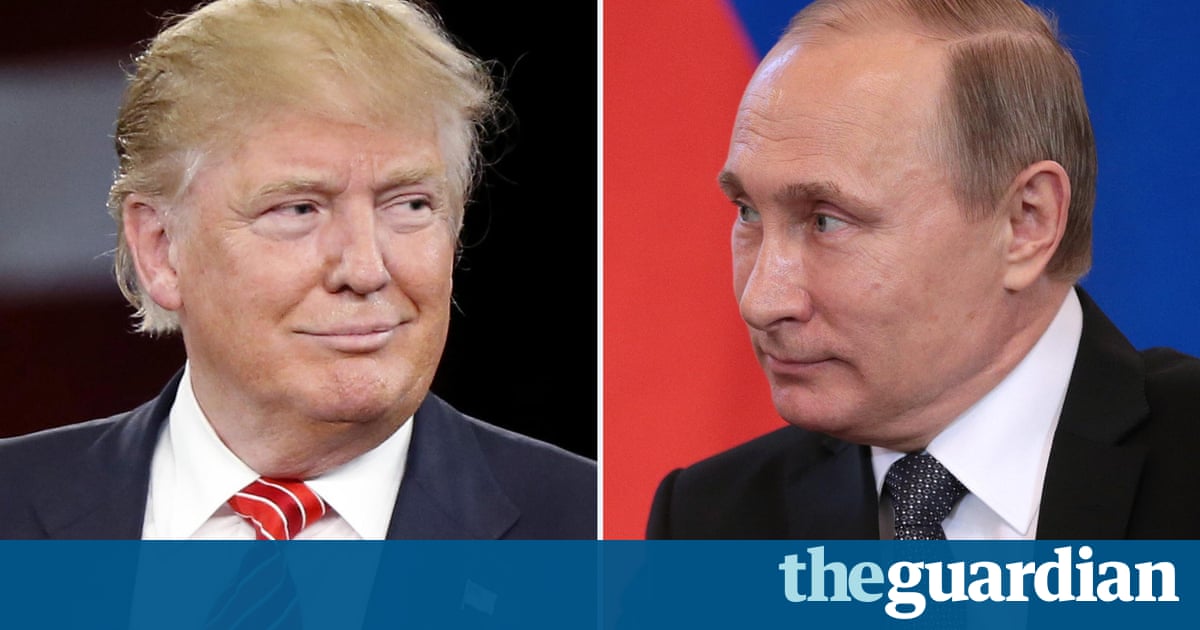 Donald Trumps ratings abroad are strongly negative, according to a Pew Research report on how people around the world perceive the US.
Asked if they had confidence in Trumps ability to manage foreign policy, only 9% of respondents in 10 EU countries agreed. By contrast, a median of 77% said they had confidence in Barack Obama and 59% in Trumps likely general election opponent Hillary Clinton.
Trump collected the most support in China, with 22% expressing confidence in him. In Canada and India, he had 14% confidence; Australia, 11%; and Japan, 8%.
Confidence in Clinton to handle world affairs is generally high, the report said. By comparison, few trust Trump to do the right thing when it comes to foreign policy.
People who have confidence in Russian president Vladimir Putin are more likely to have confidence in Trump, the report says. For instance 44% of those in Italy who have confidence in Putin also have confidence in Trump, whereas only 12% of those who have no confidence in Putin have confidence in Trump.
More than 20,100 people responded to the survey, which was conducted from 4 April to 29 May 2016. The countries surveyed were: Greece, Australia, Canada, the UK, Spain, China, France, the Netherlands, Sweden, Japan, Germany, Italy, Hungary, India, Poland and the US though Americans were not asked about Trump and other world leaders.
Even in China and Italy (21%), the countries that expressed the most confidence in Trump, respondents still had more confidence in Obama, Clinton and Putin.
Compared to Trump, Putin fared better, sometimes overwhelmingly so, in most countries. Only Poland showed more confidence in Trump than Putin, although both men had 8% support in Spain.
Hes unpopular at home, hes unpopular with Republicans, hes unpopular abroad none of this is a surprise, said Margie Omero, a Democratic pollster and executive vice-president of public affairs firm Penn Schoen Berland.
Support for Trump was higher among those supporting right-leaning political parties abroad, but those people still mostly expressed no confidence in him. He received votes of confidence from only 30% of those who said they were affiliated with the UKs Eurosceptic, anti-immigrant party Ukip, for example, and 31% of those who support Silvio Berlusconis center-right party Forza Italia.
Thats not enough to base a successful tenure as a world leader, Omero said. And on top of that he is the most unpopular candidate among Republicans in modern times.
The survey also asked about peoples general perceptions of the US, which has had consistently high favorability ratings throughout the Obama administration.
Previous reports have shown than Obamas election improved perceptions of the US across the globe, particularly in western Europe, where confidence in the president jumped dramatically in November 2008. Confidence in Obama in Germany, France, the UK, Spain and Poland remained higher through the presidents eight years than it ever was during Bushs two terms.
Richard Grenell, a GOP operative, said in an email that his eight years as a spokesman at the UN for the US taught him that many diplomats want and enjoy a weak and withdrawn United States.
Grenell, who had not read the report, said other countries benefit from US weakness.
There is no question that world diplomats have enjoyed the eight years of Obama because he hasnt asked them to take action on the worlds problems, Grenell said. The growth of Isis while Hillary Clinton was the chief architect of US foreign policy proves that she didnt ask or wasnt able to get other countries to confront these and other terrorists like Boko Haram.
Obamas reputation did suffer from his administrations use of drone strikes in Pakistan, Yemen and Somalia, as shown in Pews 2015 survey of Middle Eastern nations, but the region were not surveyed in this years report.
Countries were divided on whether the US was as powerful and important a world leader as it was ten years ago. A majority of people from Japan said it was less of a world leader and a majority of people from India said it was more powerful. But 46% of Americans said the US was playing a less important role in the world.
Read more: https://www.theguardian.com/us-news/2016/jun/29/donald-trump-vladimir-putin-global-survey-pew