The great Richard Quest social media challenge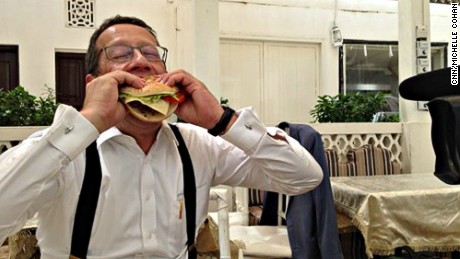 (CNN)Last month, CNN's Richard Quest spent eight days almost completely airborne.
The task at hand?
Fly around the world in eight days, exclusively on budget airlines.
The
first
saw Quest travel east from London to Singapore.
The second installment, first airing on CNN International on May 12 at 0930 BST/1030 CET and now available to watch online, sees Quest and his team make it to Australia, cross the dateline, and return to their starting point in London.
During his journey, Quest accepted viewer challenges on social media.
Using the hashtag
#flywithquest
, you sent him to the base of Dubai's Burj Khalifa, across Wakiki's golden sands and tasked him with eating some of the world's more unusual local delicacies.
There were more than 3,000 #flywithquest posts, with the U.S., Australia and the UK being the most involved.
Here are some of our favorite challenges.
Meet the pilots
Mission accomplished @christineadair! Quest snapped pics with cabin crew around the world, from the pilots that steer the ship, er plane…
To the cabin crew that keep the peace:
From Australia…
To Malaysia:
Sample the local fare
Business Traveller fans had no shortage of food advice for Quest during his journey.
The infamously pungent fruit is a local delicacy in parts of Asia, and while at Singapore's Changi Airport, he found some (though judging by his face we're guessing it wasn't to his taste):
This Dubai camel burger seemed much more to his liking.
And of course, what would an Australian meal be without some Vegemite?
Get photographed with a local landmark
What's a round-the-world trip without some sightseeing?
Quest got his adventurer hat on while hitting Prague's historic stone bridge…
Posed in front of the Burj Khalifa, the world's tallest building…
And felt the sand beneath his feet in Hawaii.
His final landmark challenge was at New York's Brooklyn Bridge, shortly before his return trip to London.
To read more copy this link into a new tab: http://edition.cnn.com/