Super telescope finds hundreds of previously undetectable galaxies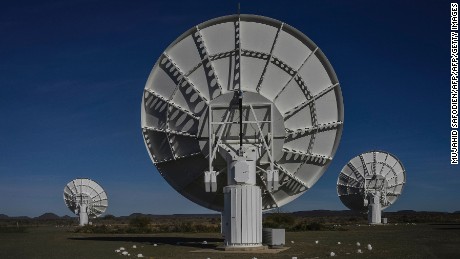 (CNN)A South African radio telescope has revealed hundreds of galaxies in a tiny corner of the universe where only 70 had been seen before.
The images,
taken by MeerKAT telescope
, are an indication of the detail the southern hemisphere's most powerful radio telescope may be able to provide when it is fully operational later this year.
At present, 16 of MeerKAT's 64 dishes
are scanning the skies. As well as its scientific goals, the project serves as a technological demonstration of South Africa's capability to host the
Square Kilometer Array
, a huge multiradio-telescope project to be built in Australia and South Africa comprising dozens of dishes.
"Based on the results being shown today, we are confident that after all 64 dishes are in place, MeerKAT will be the world's leading telescope of its kind until the advent of SKA," Professor Justin Jonas, SKA South Africa chief technologist,
said in a statement
.
"Today's exceptionally beautiful images … demonstrate that MeerKAT has joined the big leagues of world radio astronomy," said Fernando Camilo, SKA South Africa chief scientist.
Read more: http://www.cnn.com/2016/07/17/health/south-africa-meerkat-telescope-galaxies/index.html