Stewart Lee: I decided to write like I was trying to get myself sacked
In an extract from his new book, a collection of pieces written largely for this newspaper, the standup recalls how he learned column-writing on the job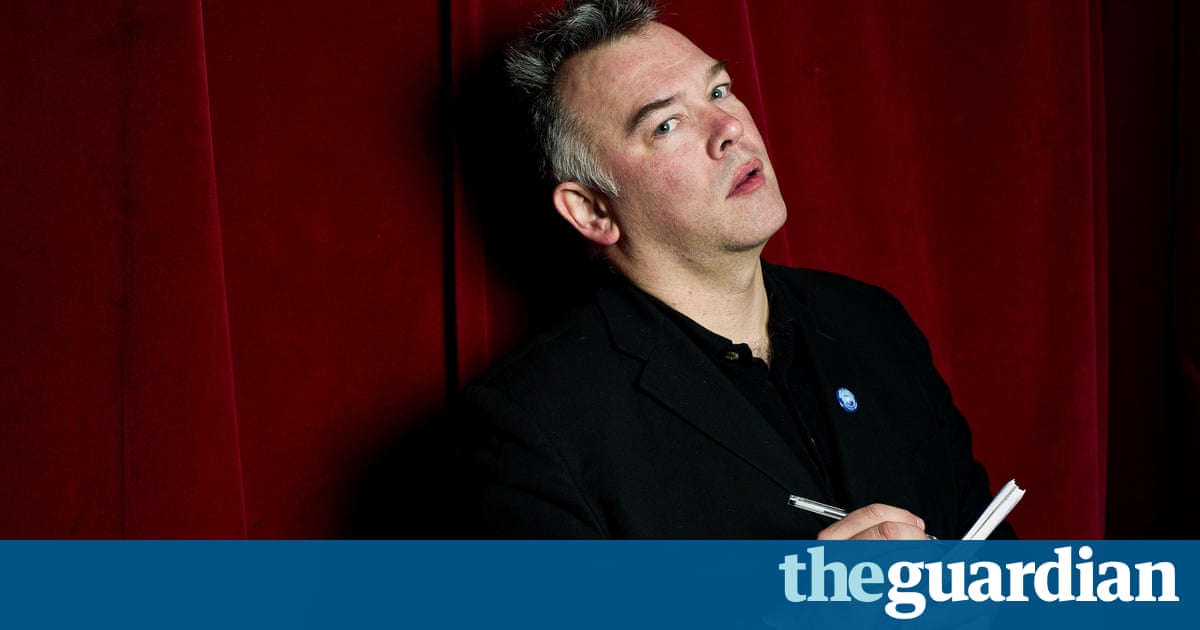 My new book, Content Provider, annotates and explains a selection of short and supposedly comic prose pieces, all written over the past five years, principally for this newspaper. I was a standup comedian trying to learn, in public, how to be a columnist, a harder task than I had arrogantly imagined.
During the period covered, various characters came and went from political life. Who can even remember Tory party chairman Grant Shapps now? Others gradually became ever more significant and by February this year, when the book ends, were positioned to be major players in the decisive swing of the fatal one-way cat-flap of Brexit.
In March 2014 I imagined Sarah Vine proudly raising a status-confirming toilet brush, flecked with excrement. Who could have known that one day her husband, Michael Gove, would almost have been that triumphant bathroom accessory, and she the plastic holder cradling it?
The landscape Content Provider described is suddenly gone, its key players either discarded in post-Brexits Brabantia bin, or grown unimaginably powerful in its wake, and the values the book holds self-evident are threatened as never before. This extract from the introduction describes the circumstances that led to my unlikely late-life newspaper columnist side-career. Ive no idea, at this point in time, how anything I learned will be useful in this strange new world
I started doing standup in the late 80s and got my first paid gig in September 1989, at the Bedford Pub in Balham, south London. Do look for it. It is still there. But everyone that drank in Balham back then Goblin Dave, Welsh Pete, the woman they called Maestro, and the piano-playing man with the plastic head has been priced out. Only Arthur Smith, the Redondan king of SW12, remains, hiding out across the road in an art deco block of flats the local legends say Hitler personally spared from blitzkrieg.
I was 21 and a half years old when I became a semiprofessional standup. The first time I got asked to write funny columns was, undeservedly, for a short-lived comedy magazine, Deadpan, in 1994, off the back of being a radio comedian.
I dug out my juvenile efforts recently. They were adequate. Gratifyingly, the me in the stories wasnt really me. He was a character, a kind of would-be bohemian columnist version of me, eager to impress, pleased with his own cleverness, fabricating meetings with Kurt Cobain and imagining shared-stage-fright ferry flights across the English Channel with Stephen Fry.
At least, I assume it was a character of sorts, one that I consciously created to provoke myself into the generation of copy, but I cant be sure. Who was I then? What was I thinking? I may be reverse-engineering a truth I wish existed. Sadly, looking at the magazine pages, I appear to have allowed myself to be photographed for my byline picture in a south London greasy spoon, young and gaunt and smoking a cigarette, which suggests a blurring of the boundaries. Maybe I was in deep cover. Maybe I still am. I dont know. Whatever, I wish I was still 12 stone and sickly and could smoke a pack of cigarettes before breakfast without throwing up.
Deadpan folded after a year and I dont remember any of the funny columns I got asked to write by any other outlet being much good at all for the next decade or so. That doesnt necessarily mean they werent. I cant remember much about the decade of the 90s. I was drunk for a lot of it, and then depressed towards the end, I think, in retrospect. Its all a haze of London comedy-club cellars viewed from the stage through a jazz photograph pre-smoking-ban fug; motorway service stations in Doppler effect from the transit van windows on loss-making tours with the Lee & Herring double act, where big theatre gigs with our big promoter made me less than my usual solo slots on pub-cellar mixed bills paid me alone; people arguing in hotel bars and Little Chefs; intrigue in the toilets at the Comedy Cafe in pre-hipster Old Street, its upstairs room the London circuits unofficial social club in those fondly remembered long, late Saturday nights of the early 90s, Roger Mann on his hands and knees, pulling faces from behind a sofa; all of us getting drunk in Indian restaurants in tiny towns recently fucked by Thatcher; me going deaf at rocknroll gigs in Camden and Harlesden and Islington and Manette Street and Charing Cross Road. Polvo! Yo La Tengo!! The Fall!!!
What a decade it was. I went to Canada and Australia. There was unconsummated American network interest in my standup act and sitcom and movie scripts. My weight went up and down, and so did my bloodstained pants, from toilet seat to toilet seat, all across the world. I made money on TV and doing my standup on the club circuit, and lost it all on Edinburgh fringe solo shows and our double-act tour debts. I grew up into grunge, and for a brief time my natural dress sense overlapped with fashion, and popular music sounded like what I had once imagined it might do, if all the things I already knew about and loved cross-fertilised and bred.
I was engaged, and then disengaged. I ruined a few lives, I expect. I wasted other peoples time, and my own. I performed much of the work I was offered with a sense of dazed detachment, as if I was better than it, yet I seemed unable to commit to any coherent alternative. I ate curries and toasted cheese and tuna sandwiches and little else, and it is no surprise I was unwell. I owned, and wore, leather trousers, with a sense of entitlement. I failed to grasp a succession of nettles, and nailed nothing to any sticking places worth speaking of.
I was busy all the time, night after night, yet I emerged blinking into the new century with little to show for all those hours on stage, except a small flat over a shop in a then liminal north-east London borough that was subsequently deemed upmarket, the sale of which made me more money than any job I have ever done, buying me, and others of my generation in similar situations, an unearned second chance, even as the door of opportunity slammed permanently shut in the face of those of similar social backgrounds unfortunate enough to have been born a decade later.
I cant find any of the occasional filler columns I wrote for the Guardian Guide in those years. I am glad. I was a prick for most of the 90s, and I think my supposedly funny writings of the period probably went the same wandering way as my standup. I had lost track of whatever was essentially me, caught up in zeitgeisty 90s cynicism: enacting misguided projectile vomiting at soon to be discarded, and now nostalgically remembered, liberal orthodoxies; trying to write and perform what I imagined was expected of the young, educated men of the period.
Read more: https://www.theguardian.com/books/2016/jul/31/stewart-lee-content-provider-book-extract