Rio 2016 Olympics: What Brazil is worrying about with 100 days to go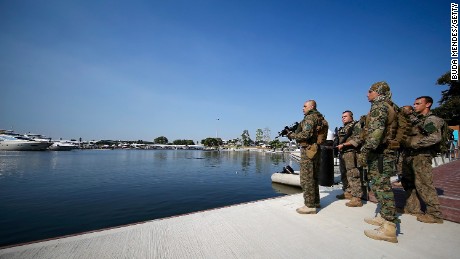 (CNN)If Olympic opening ceremonies should capture the atmosphere in a host nation, then Rio 2016's curtain-raiser should be interesting.
With 100 days until the Games begin, Brazil is unraveling fast — largely overshadowing the impending arrival of sport's greatest showpiece.
Who needs the staple pre-Olympic media diet of venue delays and security fears when you have a leader facing impeachment, a gigantic corruption scandal and a global public health emergency?
As the clock ticks, it is impossible to know who will occupy the seat reserved for the Brazilian president at the August 5 opening ceremony.
The incumbent, Dilma Rousseff, is alleged to have manipulated her government's economic figures prior to 2014's election. She says the consequent impeachment proceedings against her are a "coup" she will fight to the last.
Leading her opponents is Eduardo Cunha, speaker of Brazil's lower house. He says Rousseff has brought "economic chaos" on Brazil, but is facing his own series of proceedings related to corruption and money-laundering allegations.
Hundreds of thousands of protesters on both sides routinely take to Brazil's streets. Forgive them if they haven't yet bought badminton tickets.
Last week, hopes were buoyed by confirmation that Barcelona superstar Neymar will take part.
Mixed fortunes
By contrast, that was also the week in which Beijing 2008 swimming champion Cesar Cielo failed to qualify for his home Olympics. The absence of Cielo, one of Brazil's few genuine Olympic megastars outside football, will be felt by fans and possibly in ticket sales.
"I'm not surprised," says Silva, whose website covered Cielo's demise day by day. "Cielo wasn't swimming very well recently. But it's sad, because he was the first Brazilian gold medalist in swimming.
"Brazilians have a complicated relationship with the Olympic sports: Football is the religion here and the other sports sometimes only appear on TV every four years. After the Games, they almost disappear.
"But Cielo has a big reputation and he was favorite to be the flag bearer at the opening ceremony. He's out, now, so the race is open for who will take the flag."
Usain Bolt is, of course, the leading international draw. Questioned relentlessly about Rio since the moment he left London four years ago, the Jamaican — twice Olympic champion over 100 meters, 200m and in the 4x100m relay — has maintained the same line throughout.
"The threepeat is my main goal," Bolt, who will turn 30 on the day of Rio's closing ceremony, reiterated to Reuters last week. The sprinter also wants to break, for the first time, the 19-second barrier over 200m.
Brazilians will tune in for track and field, for swimming (where all-time medal record-holder Michael Phelps will once more appear) and for gymnastics (again led by an American in three-time all-around world champion Simone Biles).
Elsewhere, Silva will be interested to see how less-familiar sports fare. He believes sports like track cycling, badminton and rugby sevens may struggle to capture the hosts' imagination.
Silva, one of Brazil's most fervent Olympics aficionados, has tickets to basketball, boxing, field hockey, handball, rugby sevens, table tennis and wresting — but is on the lookout for more.
"I want to go to the golf," he says. "I'm very curious."
Golf fans may find still curiouser company at the course. Recently, local reports suggested golf will make its Olympic return (it last appeared in 1904) at a venue popular with capybaras and alligator-like caiman.
Biologists will be present to scoop away any who venture too close to the world's golfing stars, although in some cases the capybaras will need an aircraft — as critics predicted, not all pro golfers think Rio is worth the hassle.
Australia's world No. 7 Adam Scott joined former No. 1 Singh in withdrawing, saying he was "extremely busy."
Another major champion, South Africa's world No. 12 Louis Oosthuizen, said "family and schedule issues" would keep him away.
Beyond individual choices about travel to Rio, one sport might decide the fate of an entire nation.
Russia, consumed by a series of doping scandals over the past 12 months, is barred from all international competition by the governing body of world athletics. A decision on whether that ban will be lifted for Rio is expected in mid-June.
Russia's sports minister Vitaly Mutko says his country has "done everything" to change its ways and "our athletes have a moral right to be in Rio."
Hope springs eternal
Amid these many issues, hope remains for a successful Olympics.
"It's going to be a different Games, but it will work," is how IOC inspector Pat Hickey phrased it this month. President Bach insists he is "very confident that it will be an excellent Games."
Silva sounds similarly optimistic, with a touch of local knowing.
"It'll work, it'll happen and it'll be cool," he says. "But now it's not the center of attention, the excitement is not that big. It'll take a little longer — maybe a month to go.
"We have our Brazilian way of making things work. It won't be perfect. We expect that, and we have done since the beginning.
"We know it won't be the best Games ever. But we hope it'll be a nice Games and people will enjoy it."
Read more: http://www.cnn.com/2016/04/27/sport/olympics-rio-2016-countdown-100-days-to-go/index.html