Our Most Iconic Places Are Under Dire Threat From Climate Change
Dozens of the Earth's most cherished World Heritage sites are under dire threat from climate change — and some may be damaged beyond saving, warns a report UNESCO released Thursday.
The agency, alongside the Union of Concerned Scientists and the United Nations Environment Program, analyzed 31 natural and cultural World Heritage sites in 29 countries on six continent. The areas range from America's celebrated Yellowstone National Park and Venice's iconic Lagoon to the Galapagos Islands in Ecuador and the Ilulissat Icefjord in Denmark, all of which could be damaged by an onslaught of climate-related effects.
Man-made climate change has long been linked to a host of environmental ills including melting glaciers, rising seas, an uptick in wildfires and harsher droughts. The report warns these effects could severely diminish the value of protected sites, essentially ruining them for future generations and, thus, make them unsuitable for a World Heritage designation.
Ironically, despite the growing threats, UNESCO only has a $4 million budget to help assist climate-mitigation efforts for more than 1,000 World Heritage sites. To put that in perspective, Venice alone has budgeted more than $6 billion to stem the tide of flooding overtaking the city.
UNESCO awards natural and man-made wonders a world heritage designation if an area is deemed to hold "outstanding value to humanity." Such a distinction necessitates countries protect these regions to preserve them. If sites become too degraded due to lack of protection, an area can be listed as "in danger" and, possibly, have its designation stripped.
"Climate change is affecting World Heritage sites across the globe," said study lead author Adam Markham, deputy director of the Climate and Energy Program at the UCS, in a press release. "Many of the world's most important coral reefs, including in the islands of New Caledonia in the western Pacific, have suffered unprecedented coral bleaching linked to climate change this year."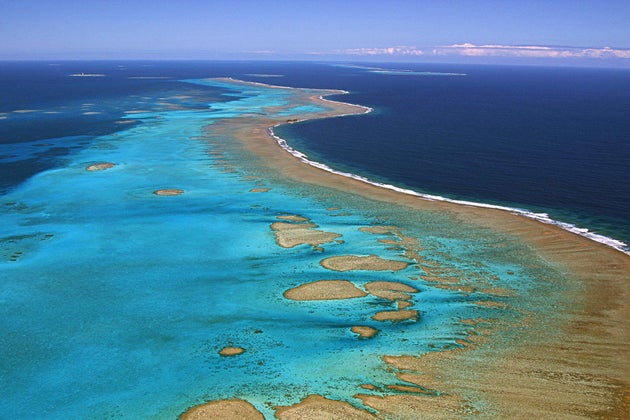 The report's mention of coral reefs is perhaps the most poignant as the planet is now experiencing the third global bleaching event in recorded history. A devastating bleaching is destroying Australia's Great Barrier Reef, itself a World Heritage site, spurred by El Nino.
Claude Payri, director of research at the Institut de recherche pour le développement in New Caledonia, said it's important to note these climate-related effects are particularly damaging when added on top of direct human activity, which will compel humanity to craft a multifaceted approach to save these areas.
"Threats linked to climate change [come] in addition to local threats, which have already negative consequences on the reefs," Payri said in an email to The Huffington Post. "In terms of action, that is of importance because, locally, public politics can limit some of the threats, while limiting temperature increase means much bigger efforts at more global scale."
America's Yellowstone National Park is also seeing firsthand effects of climate change as warmer winters have led to a decrease in snowfall. Scientists worry more severe and more frequent wildfires could drastically change impact fragile ecosystems in the park.
The latest report adds yet another burden to many sites that people are already harming. A report the World Wildlife Fund released in April found nearly half of the planet's Heritage sites are currently under threat from development and human expansion. Those sites include some of the most well known wonders of the world, including Egypt's pyramids, Florida's Everglades National Park and the Great Barrier Reef.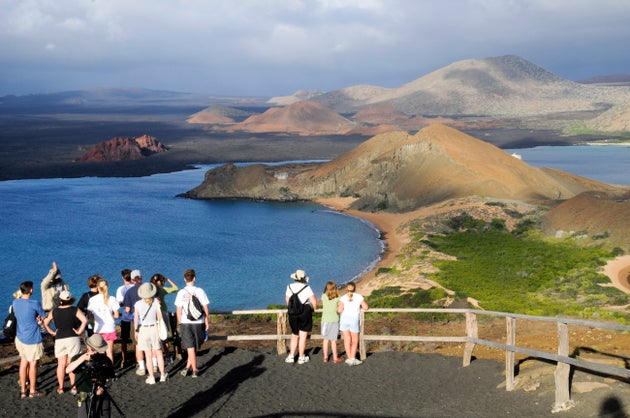 Aside from the potential destruction of these areas, the report warns such a loss could devastate wide swaths of the global tourism industry. Travel and tourism generate more than 9 percent of global gross domestic product. And around some heritage sites in developing countries — like the Belize Barrier Reef Reserve System — a large portion of the population relies on the regions for primary income.
Ironically, this tourism has also been linked as a threat to World Heritage areas if managed poorly. Areas like the Galapagos, already under threat from rapid development, would only be further harmed as climate change leads to increased rainfall and coral bleaching.
"Unfortunately, if tourism is not managed properly, it has the potential to destroy the very resources that ensure its success and sustainability," said Ligia Noronha, director of the UNEP's division of Technology, Industry and Economics, in a press release.
The authors of the UNESCO report are urging governments and world leaders to do "all that they can to address the the causes and impacts of climate change," and conduct more research about potential impacts to threatened areas from both humans and the warming planet.
Because without drastic action, we may soon love these places, among the most protected we have on earth, to death.
To read more copy this link into a new tab: http://www.huffingtonpost.com/