NFL player Nate Ebner selected for US Olympic rugby sevens squad
Mens and womens squads for Rio Games named, with Patriots special teams player and Saracens Chris Wyles part of a strong group picked by Mike Friday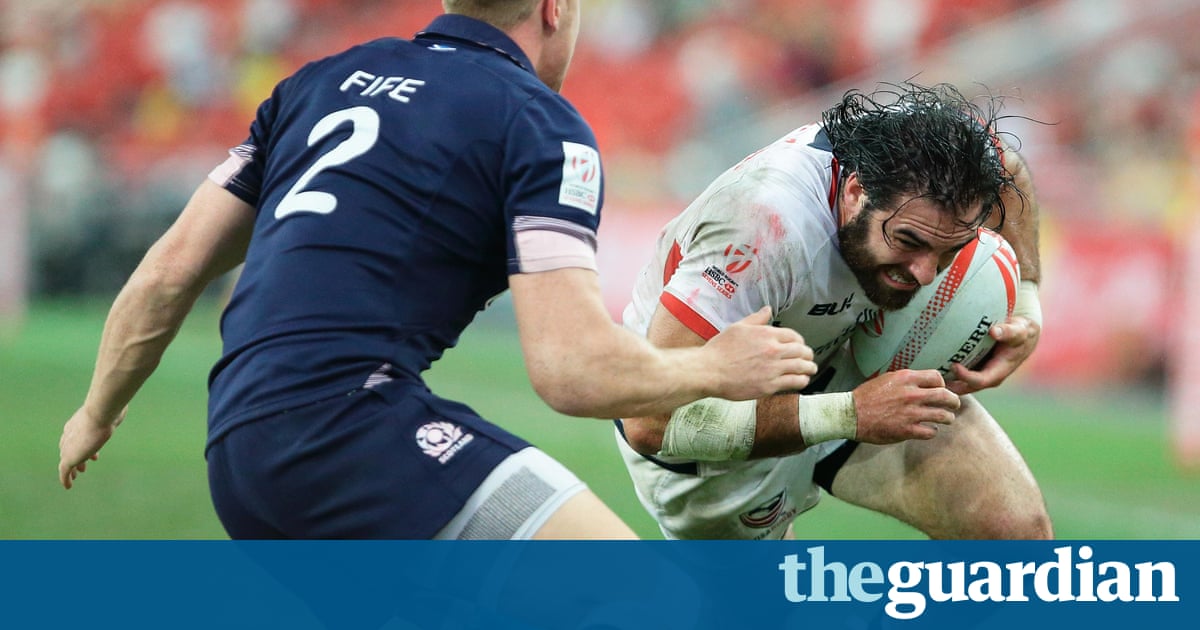 The New England Patriots special teams player Nate Ebner will play rugby at the Rio Olympics next month, having earned selection to the USA mens sevens squad named on Monday morning.
Ebner, 27, was granted a leave of absence by Patriots head coach Bill Belichick in order to pursue an Olympic place in the sport with which he grew up. He played for Mike Fridays Eagles in Singapore and Paris last season before missing the season-ending London tournament, and will now return to the Patriots preseason preparations after the Games in August.
Coach Friday said: Its a huge honor to represent your country at any time in your life, but to be given the responsibility at the Olympic Games the biggest sporting event on the planet makes it even more special.
The fact that we will be part of Team USA and that as a result we will be exposing the USA sporting public to another team sport they can engage with and enjoy watching, as well as passionately support their country, is immense.
Ebner has outperformed other high-profile converts who have missed out on the Games. The former Australia rugby league star and San Francisco 49ers convert Jarryd Hayne did not make the Fiji squad, after leaving the NFL in a late attempt at selection. The record-breaking South Africa wing Bryan Habana and Australia fly-half Quade Cooper also failed to earn places in Rio.
Fridays USA mens squad also includes Perry Baker, a former football player who was the only American to make the HSBC Sevens World Series all-star team in 2015-16, and Carlin Isles, a former running back and sprinter whose conversion to rugby union attracted global headlines and gave him the status of the fastest man in rugby.
Isles has not played elite sevens for some time, having suffered an injury in training for an unlikely tilt at double Olympic representation on the track.
The Saracens back Chris Wyles, who retired from 15-a-side rugby to focus on the Olympics, also earns selection. He played in the final Rio qualifier but missed the ensuing sevens season due to his commitment to the English club game. Andrew Duratolo, a flanker who plays for the Japan-based Sunwolves in Super Rugby, is also named. The team will be captained by the English-raised Madison Hughes.
The US womens squad includes the cancer (and broken neck) survivor Jillion Potter and crossover athletes including Jessica Javelet (field hockey, football) and Alev Kelter (hockey and soccer).
Coach Richie Walker said: I have selected a group of girls with a wide variety of playing styles and I am excited to see them all come together and play for each other in Rio.
Read more: https://www.theguardian.com/sport/2016/jul/18/nate-ebner-usa-rugby-sevens-olympic-games