New York City FC host the Red Bulls in a rivalry fuelled by increasing disdain
New Yorks soccer derby is new, but their rivalry is growing thanks in part to the feeling that NYC FC are upstarts encroaching on the Red Bulls territory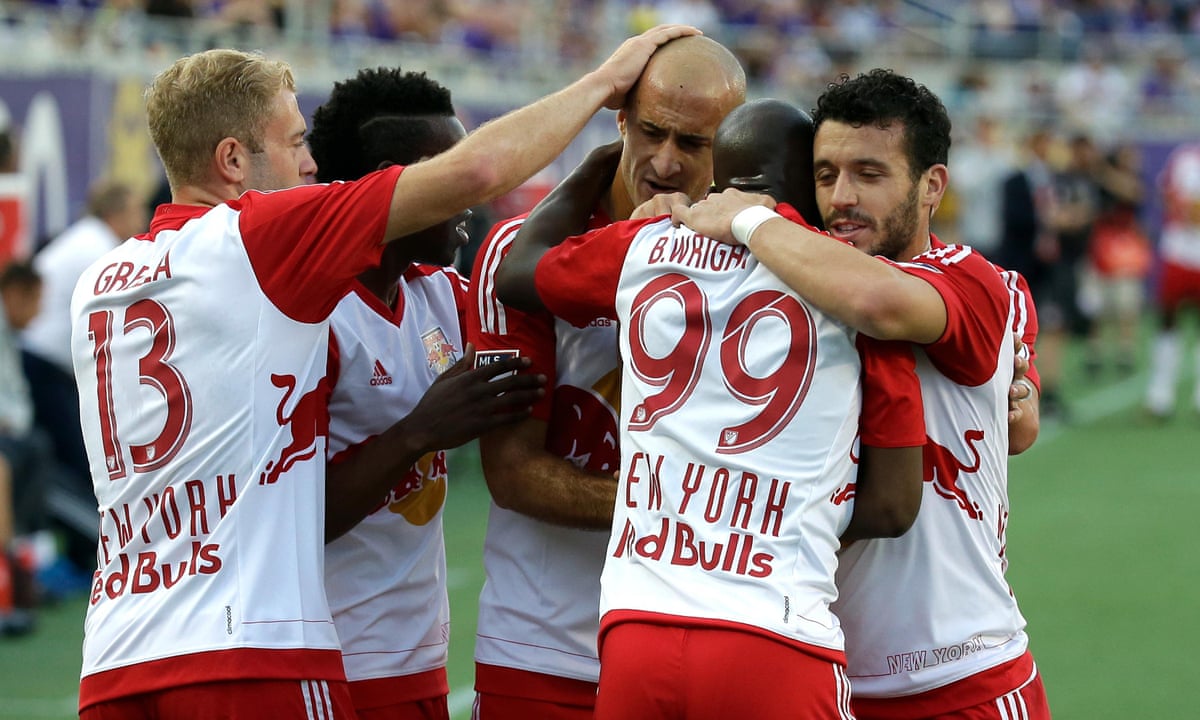 When fans of New York Citys two MLS clubs New York City FC and the Red Bulls congregate at Yankee Stadium on Saturday afternoon, there will be chanting, the hoisting of massive banners and a palpable air of disdain. Whats become known as the Hudson River Derby is a nascent rivalry fueled by vitriol and modest violence. Its an enmity thats seen supporters from both clubs hurl fists and insults as a means of proving which team best represents the five boroughs.
The derby creates the drama typical of soccer rivalries the world over, which seems to radiate from the pitch and into the hearts of fans at the first whistle.
While tension might end with supporters verbally sparring at a subway stop or in a scuffle outside a New Jersey bar one glaring caveat is the derbys absence of history. After all, City have only just embarked upon their second season, after a disappointing inaugural campaign left the club short of the playoffs. So far, the Red Bulls have coasted to victory in all three derbies, but their fans still feel overshadowed by the presence of a new team that have encroached upon their territory.
For Red Bulls fans, many of whom followed the team as the New York/New Jersey Metro Stars in the 1990s, the club owed its roots to the very first awakening of American soccer fervor. At a time when the modest MLS was overshadowed by towering American sports figures like Michael Jordan, Derek Jeter and Emmitt Smith, the Empire Supporters Club gathered at Giants Stadium to support a team that existed in obscurity.
The ESC was established in 1995 by young socialists and political radicals, many of whom fought to keep a developing tide of far right-wing extremism out of American soccer leagues. The ESC not only claims to be the oldest MLS supporters group, but the rightful heirs of New York Citys developing soccer kingdom.
Steve Ferrezza, a board member of the ESC, recalls the early days, when seats at Giants Stadium were largely empty but hearts were full, as the seeds of early fandom were planted. I remember the days at Giants Stadium when there were only 2,000 people in the stadium. I would have to take the subway to Jersey Transit to a shuttle bus, and then run across the parking lot to get to the tailgate in time to pick up my ticket, he says.
While things have changed, and notably for the better the Red Bulls no longer play at the since-demolished Giants Stadium, but at their own arena in Harrison, New Jersey Ferrezza likens the emergence of City to a privileged neighbor stealing whatever limelight the Red Bulls battled for decades to attain.
No pun intended, but [City supporters] were basically born on third base. They didnt have to fight for anything, says Ferrezza.
His words are supported by Citys generous financial backing. The team is owned 80% by City Football Group, a holding company of Abu Dhabi United Group, which directs the operations of the Premier Leagues Manchester City in addition to other clubs in Japan and Australia. The clubs other owner with a 20% stake are the Yankees.
Because of this, many Red Bulls fans, like Daniel Fridman, a lifelong New Yorker whos been watching his team play since he was nine years old, see City as nothing more than an expansion team. He believes NYC FC skirted the leagues official regulations by setting up shop so quickly, and notes that the crosstown rivals feel more like a newborn that was ripped out of a stomach than an official franchise.
All these people who could have supported Metros, they chose City because they play in the Bronx? It just irritates me, he says.
To read more copy this link into a new tab: http://www.theguardian.com/us