New Year celebrations ring in 2017 around the world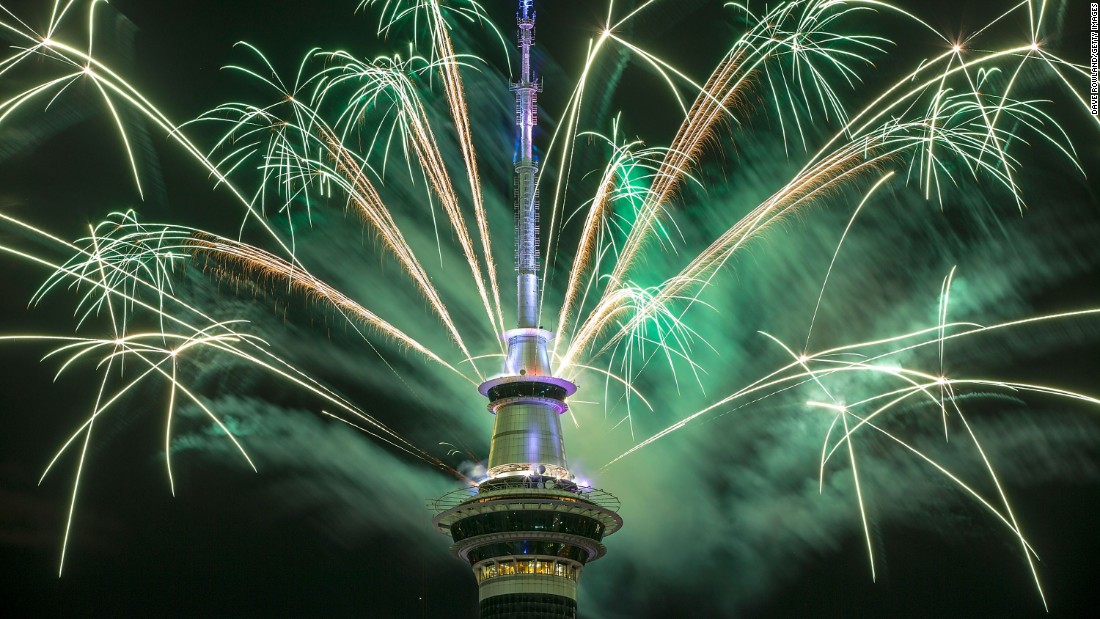 (CNN)As 2016 draws to a close — a fact unlamented by many — countries across the globe have been ringing in the New Year. Hello, 2017 — here we come!
In New York's Times Square, Ben Von Klemperer took in the heightened security as the gates opened more than 12 hours before the big celebration. Mother Nature cooperated — somewhat — with temperatures climbing from the high 30s to the low 40s during the afternoon hours.
The gates have opened at Times Square in New York City, as NYPD officers search revelers arriving more than twelve hours before midnight (31-Dec-2016, 11:22am). #manhattan #NYC #TmesSquare #timesquarenyc #nyc #nyesecurityguards #nyesecurity #cnnireport #cnnnye #nye #newyearseve #NYPD #nypdsfinest #abc7eyewitness #news4ny #news4newyork #wcbs #ny1news
Many bundled up on the cordoned off streets to claim their positions hours before Gotham's traditional midnight ball drop.
Across the Atlantic, European cities including Berlin, London, Paris and Rome
stepped up security
ahead of their celebrations, following truck attacks in 2016 on crowds in Nice, France, and Berlin.
Philippines
At Manila's Ocean Park, Kevin Gener photographed shafts of red light rising over the marine theme park.
Best year so far! Thankful for my loving family, awesome friends and supportive colleagues who made it so exciting and full of life! New Year's Resolution, beat 2016! #newyear #2017
Riley Nolan marveled at the illuminated outlines of the Philippines' financial hub in the city of Makati.
Japan
Asimina Tzatha stood with revelers in Tokyo, cheerily dispatching the final 12 seconds of 2016.
HAPPY NEW YEAR from Tokyo Japan #newyears #lifestyle #tokyo #japan #shibuya #2017
South Korea
In Seoul, Boram Brian Kim took video of fireworks over the bustling streets of the South Korean capital. His favorite memory of 2016, he said, was "traveling in Europe and southeast Asia and getting to meet a lot of new people."
HAPPY NEW YEARS EVERYBODY! ! ! (Thanks Lyla) ##Korea #newyear#newyears#2017 . . . #food#foodie##travel###iamboramkim#fireworks#korean####daily####tbt#firework###follow##foodstagram#seoul#
Australia
The palm trees and glass highrises of Brisbane City glowed under bursts of fireworks.
In Melbourne, Instagram user Nathanael Campbell captured the magnificent, cacophonous crescendo that marked the end of 2016. Still, despite the impressive fireworks, he said: "I think winning my league bowling award in cricket was my highlight for 2016."
2017 #newyears #melbourne #fireworks
And more spectacular fireworks erupted from the iconic Sydney Harbour Bridge and from barges on the water beneath.
The evening's pyrotechnics, a family display at 9 p.m. and a midnight show, included tributes to Prince — in the form of a shower of purple rain — and David Bowie, both of whom died in 2016.
Celebrating the start of the new year in style! #happynewyear #2017 #sydneyfireworks
New Zealand
One of the first to celebrate was New Zealand, where fireworks lit up the skies over Auckland's Sky Tower.
Happy new year everyone woo-hoo…. #2017 #letsgo
For those who can't wait to see what 2017 holds, a dozen CNN commentators
peered into a crystal ball
to come up with their best guesses
To read more copy this link into a new tab:http://edition.cnn.com/