Moroccan Olympic boxer faces sexual assault allegations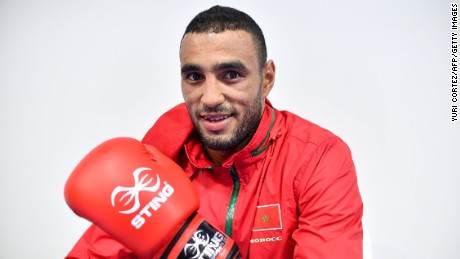 (CNN)Brazilian police arrested a Moroccan Olympic boxer on allegations of trying to rape two Brazilian maids at the Olympic Village, authorities said Friday.
Hassan Saada, 22, was arrested under a temporary warrant at the request of the Rio de Janeiro police. The warrant is valid for 15 days.
Saada's attorney, Paulo Freitas Ribeiro, said his client has denied any wrongdoing during an official statement to the local police.
Saada, a light heavyweight, had been scheduled to fight Saturday against Turkish boxer Nadir Mehmet Unal, but he currently is detained.
Ribeiro is trying to obtain a release order to enable Saada to make the fight.
In the arrest warrant, Judge Larissa Nunes Saly considered the detention necessary because the athlete doesn't have a fixed residence in Brazil.
Nourddine ben Abdelnbi,head of the Moroccan Mission at the games, said the alleged incident happened three days ago when maids were cleaning the room where five boxers were staying.
Saada contended their only interaction occurred when one of the maids asked him for a Moroccan flag, Abdelnbi said.
Abdelnbi said that while Saada is in Brazilian custody he is not formally arrested on charges. He is in what Abdelnbi described as "interrogation sessions."
The Moroccan delegation believes Saada is innocent and is awaiting the results of the investigation, Abdelnbi said.
Agencia Brasil, Brazil's official news agency, reported the Rio 2016 Organizing Committee was aware of the case and will cooperate with the police investigation.
A series of Russian athletes have banned from competing in Rio for using performance-enhancing drugs.
Read more: http://www.cnn.com/2016/08/05/sport/olympics-moroccan-boxer-rape/index.html