London Sevens: Scotland stuns South Africa in final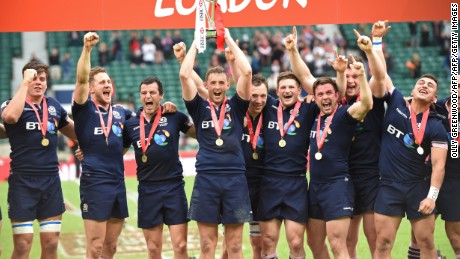 Twickenham, London (CNN)Fiji wrapped up the Sevens World Series title without even reaching the final in London, and on this weekend's evidence the battle for a historic first Olympic gold medal could be very much a lottery.
The imminent debut of rugby's shortened format at Rio 2016 has opened up a game dominated in recent years by the Pacific Island nation — which retained its crown — and 12-time champion New Zealand.
At Twickenham on Sunday, Scotland surprised the partisan home crowd by not only reaching its first series final but then also beating South Africa 27-26 in a pulsating title match.
It lifted the underdog team to 10th place in the overall standings after the 10th and final round.
The Scots led 10-7 at halftime, though it looked like the second-ranked Blitzboks would restore order after a series of shock results, going 26-15 ahead with two tries by Cecil Afrika.
However, Dougie Fife crossed twice late to inflict South Africa's first defeat in six games this weekend.
"It was just an unbelievable feeling," said Fife, whose side defeated England 17-0 in the quarterfinals. "This team have come a long way and we literally believe we can beat anyone on our day and today we showed that, and I think we surprised a few people."
Fiji, which clinched its third overall title on Saturday after reaching the quarterfinals, had to make do with fourth place.
Ben Ryan's team lost to the Boks in the semis and then the U.S. in the playoff, having been thrashed by host England in the opening group game.
The mighty All Blacks fared even worse, winning the consolation second-tier Plate competition after being hammered 42-14 by the U.S. in the quarterfinals.
The Americans won the tournament last year and looked set for another final appearance, but lost 24-17 to the Scots in their semifinal.
"They showed great character and got the win they fully deserved against this Fijian team and that gives us confidence as we move into the Olympic preparations," U.S. coach Mike Friday said.
Australia, one of the superpowers of XVs rugby, didn't even make the quarterfinals and ended up runner-up in the third-tier Bowl after losing to Wales in the final. In the semis, the Aussies edged out Samoa — which the previous weekend had shocked Fiji to win the Paris Sevens title.
"Yesterday three losses, today three wins, so we're really happy today," said Wales captain Luke Treharne, whose Olympics hopes — like those of the England and Scotland players — rest on being selected for the combined British team.
Kenya, which won last month's Singapore Sevens title, this time contested the fourth division Shield final, beating Russia 31-7 as sevens' new all-time leading try scorer Collins Injera extended his record tally to 235.
"Mixed emotions. On a personal level I managed to achieve the goal that I had set when I started playing rugby, but as a team we found ourselves in a difficult situation," said Injera, who passed Santiago Gomez Cora's record of 230 tries in Saturday's final group match.
"But saying that I think we finished on a positive and heading to the Olympics now we just need to go home, rest, recover, prepare and work hard for the next one … I think we're on the verge of something special."
South Africa's Seabelo Senatla was the series' top try scorer with 65 from 55 matches, though he was pipped by one point in the total scoring stakes by American Madison Hughes, whose leading 331 included 108 conversions.
Fiji scored the most points (1,704), the most tries (265) and most conversions (188) on the way to winning three tournaments and losing two other finals.
To read more copy this link into a new tab: http://edition.cnn.com/