Kevin Rudd seeks nomination for UN secretary general role
Julie Bishop confirms the former Labor prime minister is seeking Australian government support for candidacy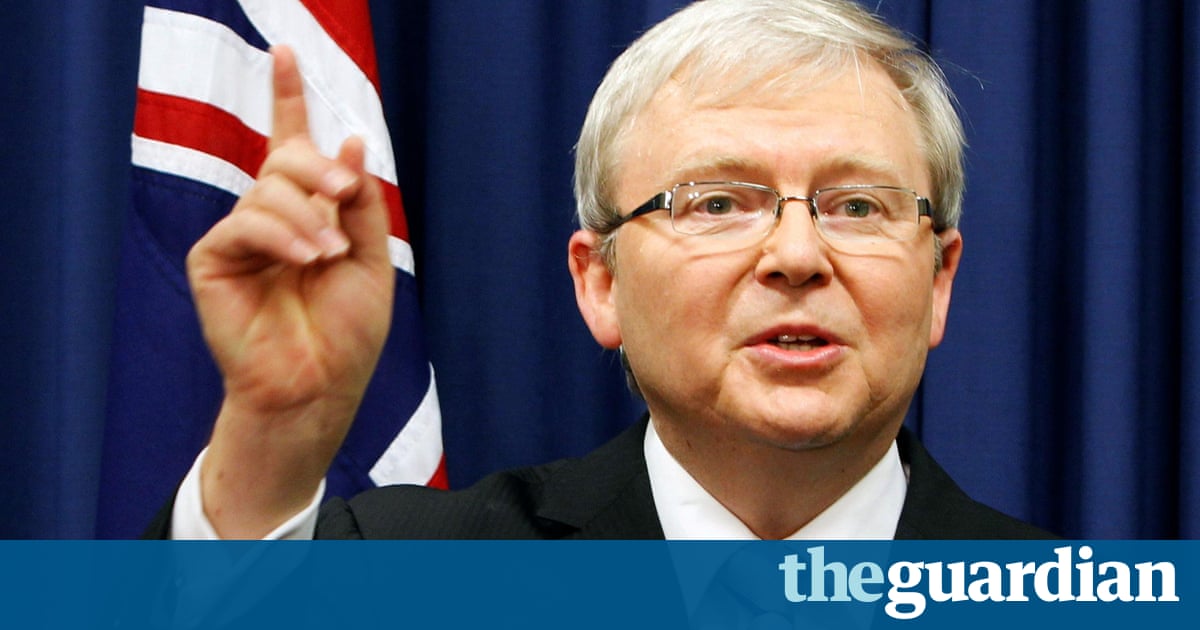 The former prime minister Kevin Rudd has put himself forward for the role of United Nations secretary general, Julie Bishop has confirmed.
The foreign affairs minister said the cabinet will now have to consider whether to support Rudds candidacy for the UNs top job.
The Labor opposition has lent its support to Rudd, despite his tumultuous history of being toppled by the party in June 2010, going on to serve as foreign affairs minister and then returning as prime minister in June 2013 before losing the September 2013 election.
Bishop told Sky News on Monday that Rudd had requested that the Australian government nominate him for the role.
As the prime minister has said on a number of occasions that will be a matter for the cabinet.
Bishop said that she would put the matter forward but did not say whether she supported his candidacy or whether he was likely to win support in cabinet.
A spokeswoman for Rudd said that he respects the internal processes of the Australian government.
He also respects the fact that the government has many other priorities at this time, having just been returned to office.
This is a matter for the prime minister, the foreign minister and their colleagues at a time of their choosing.
Since losing office in September 2013, Rudd has held a number of research positions on China-US relations, served as president of the Asia Society Policy Institute, and chairs the Independent Commission on Multilateralism and the Sanitation and Water for All global partnership.
Earlier on Channel Nines Today program, the innovation minister, Christopher Pyne, said Rudds candidacy was a moot point because he had not yet nominated, indicating Rudds request was lodged formally on Monday.
The UN secretary general role, occupied by Ban Ki-moon, will become vacant when his term expires at the end of this year.
As part of the process, each UN member state presents their candidates to the president of the general assembly and security council.
Rudd has previously talked down his chances of winning the post, noting that the job is usually decided on a rotation system and it is Eastern Europes turn to nominate the secretary general.
A total of 10 candidates have already thrown their hats into the ring, including director-general of Unesco, Irina Bokova, former New Zealand prime minister and UN development program administrator, Helen Clark, and the former UN climate change commissioner, Christiana Figueres.
The other confirmed candidates are: Vesna Pusi from Croatia, Antnio Guterres (Portugal), Susana Malcorra (Argentina), Vuk Jeremi (Serbia), Natalia Gherman (Moldova), Danilo Trk (Slovenia), Igor Luki (Montenegro) and Irina Bokova (Bulgaria).
In a televised debate on Tuesday, Clark argued that talent rather than location should be considered.
My little country is from the South Pacific and its never had a secretary general either, so I really think that given the scale of the challenges our world is facing that we need a global search for the best talent, she said.
Labor small business spokeswoman, Michelle Rowland, told Sky on Monday that all Australians would like to see an Australian in such an important role.
Rowland said it was a matter for cabinet but she hoped they exercised their best judgment and supported Rudds nomination.
But according to an Essential poll taken in April, twice as many Australians support Clarks bid to lead the United Nations than Rudds, with even Labor voters preferring New Zealands former prime minister.
Asked whether Labor would support Rudds nomination two days before the election, the opposition leader, Bill Shorten, said he supports Australians when they make their bids on the international stage, likening it to his support for the Australian team at the Rio Olympics.
The security council hopes to agree on a candidate by October, diplomats say.
Read more: https://www.theguardian.com/australia-news/2016/jul/18/kevin-rudd-seeks-nomination-un-secretary-general