Kayaker Films Heart-Stopping Moment A Massive Shark Circles His Boat
An Australian man's kayaking trip turned into a nail-biting water rescue when a 16-foot shark began circling and bumping his boat.
Video taken from a helmet camera worn by Ian Watkins captured a chilling encounter he had while paddling off the southern coast of Western Australia on Wednesday.
In a later Facebook post, he said the open-water surprise started when he heard a wave emerging from behind him.
"I thought 'what the heck's that,' and then I looked on and there's this massive fin, and I thought 'that's a serious shark,'" he told Australia's ABC News.
Unfortunately for him, the unnerving encounter had only begun.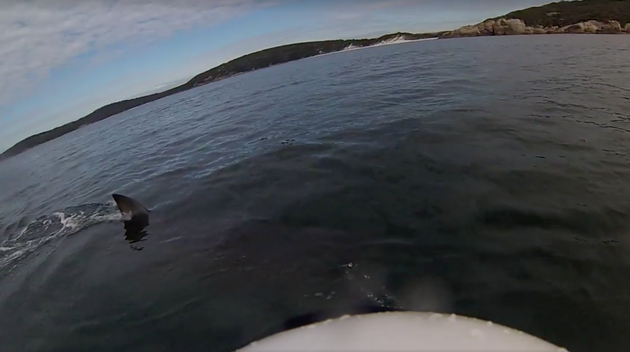 "It pushed me from the left-hand side and then it nudged me from the middle across the left-hand side," he told the news station.
He said it circled him for "a while" before he radioed for help.
"Emergency, emergency, emergency!" he says in the video. "I've got a white pointer around me … I've got a white pointer attacking the kayak."
Paul Guest, a charter boat operator, heard Watkins' call from about 600 meters (660 yards) away and drove his boat full speed in his direction, he told ABC.
It's not clear what happens next including where the shark goes. The video cuts off just as Guest's boat appears in the distance.
Watkins said the shark appeared to be as big as his 17-foot-long kayak. He admitted that he was too busy trying to stay away from it to get a better look, however.
Once he was safe on dry land, he said he showed his video to people at Emu Point who estimated that the shark was 16 feet long.
Guest said he gave Watkins a bit of advice before they went their separate ways: "I told the guy maybe you should get a bigger boat."
Read more: http://www.huffingtonpost.com/entry/kayaker-films-circling-shark_us_579a2f61e4b01180b53214c1?section=