'Just shoot': Ben Simmons slowly adjusts to life as an NBA star
The 76ers want their No1 pick to be the heart and soul of a franchise desperate for inspiration but there are many things this 19-year-old needs to master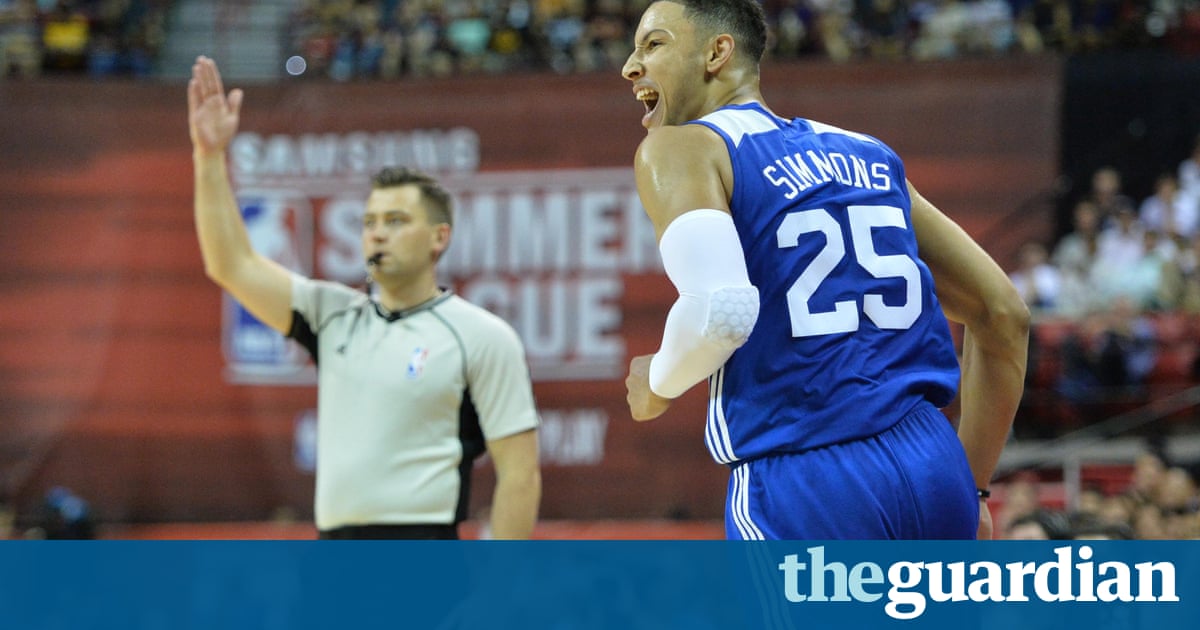 Watching Ben Simmons pass a basketball is something you could do all day. At 6ft 10in, he towers over the other point guards, flicking throws to team-mates that blur in the arena lights. It is easy to see how he can be that rare generational player who will lead the Philadelphia 76ers for the next decade.
But for now, he is 19 years old and starting out, with a confusing season at LSU behind him, and every day in this summer of anticipation is an invitation to learn. Sometimes that means performing the most basic of basketball functions.
Shoot! the Sixers coaches plead.
Its not so much that he makes them, said 76ers assistant Lloyd Pierre, the teams NBA Summer League coach. Its that he takes them.
Just shoot. Please. Please shoot.
Until Sunday afternoon Simmons had not shot much in the handful of summer games Philadelphia has played. He stood alone at the top of the three-point line, no defender within five feet and instead of shooting he passed. It was a good pass. But the Sixers didnt plan the teams future around him to have him play like a 5ft 10in point guard afraid of getting the ball swatted away. They want him to dominate.
So finally on Sunday he shot. He still didnt take any three-pointers but at least he began to heave fall away jumpers toward the rim. In an 83-70 loss to the Chicago Bulls he hit seven of 13. The 76ers coaches smiled.
Tonight he took them. I think he missed his first two, but he kept shooting, and he kept attacking, and he seemed to get a little bit of confidence, Pierce said. Obviously we want to see him become a complete player: scoring, passing and defending. We are seeing a little more each time he steps on the court.
Later, in a hallway beneath the arenas stands, Simmons said he had been listening. Yeah, they let me shoot, so I shot the ball. Some went in, some didnt, he said.
Then he added: I was just focused on shooting the ball, and they left me open, so I took them. I got into a little rhythm.
Obviously today was more about me taking shots. They allowed me to shoot the ball so I took advantage of it.
He nodded and gave a look that seemed to say: Hopefully they will stop asking me about the shooting.
It is easy to forget that he is still 19, with only a few years in this country after moving from his native Australia. He is from a basketball family, and carried mountains of expectation to his obligatory season at LSU. Now he must be the heart, soul and savior of a franchise long desperate for inspiration.
There are so many things he needs to master. He has to feel comfortable shooting. He must learn to defend. He will have to remember to run full speed every time the ball bounds off the rim. Philadelphia chose him over Brandon Ingram because he seems like the kind who can do all those things naturally. Everybody has imagined a rookie year with triple-doubles and dunks and swatted shots as the 76ers begin to show a basketball pulse. Thats almost certainly too much to ask.
He has a week-long license to be every bit of a hog at the summer league. He can shoot all he wants, drive to the basket and never let go of the ball. But he has been reluctant to do any of these selfish things. And while some of that is admirable, it can also be perplexing. When more than 16,000 filled the arena to watch him go head-to-head against Ingram, he delivered just eight points and seven turnovers. There was no super-matchup, just a couple of tall kids with a world of skill trying to figure out what it means to play in the NBA.
Pierce has another word he keeps repeating to Simmons. Aggressive. They need everything he does to be done with more fury and speed. They want him to run hard all the time. They want him to shoot when open. They tell him to drive to the rim without a thought of who might be standing in his way.
I think his biggest strength is when he can grab the rebound and get out on the floor and everyone can run, Pierce said. We want to play that way the entire game. So space is an emphasis for us, an impetus for us, and Ben should help that. But I think he needs to buy in and understand that and I think the other guys have to as well.
Maybe soon that will come. He seemed surprised when the Bulls players tried to push him around, and appeared to enjoy shoving back. But there were too many minutes when he stood around unsure if he wanted to shoot or drive or do either. He played point guard for much of the game on Sunday and yet he didnt take many drives toward the basket the way the drafts fifth pick, Kris Dunn, has done here.
And while Dunn is a natural point guard who played four years in college and will obviously be more advanced, there is an urgency Simmonss new coaches would like to see from him. Many times he caught the ball with no one in front of him on Sunday and flipped the ball to a teammate rather than drive or shoot. At some point he will have to do more than stand inside the three point line and give the ball away.
Shoot, his new coaches cry.
Be aggressive, they ask.
He is still a teenager for another nine days but he has little time left to be a kid. Soon more is gong to be expected of him than even now. The growth of Ben Simmons, basketball player, will need to come faster.
Read more: https://www.theguardian.com/sport/blog/2016/jul/12/ben-simmons-philadelphia-76ers-nba-star