Jared Tallent: Australian pipped to gold by athlete returning from doping ban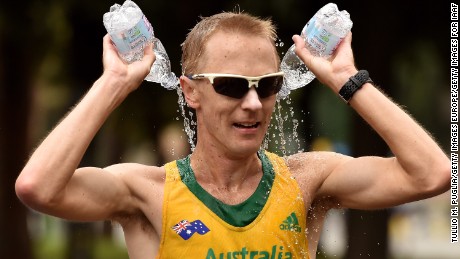 (CNN)Australian walker Jared Tallent experienced a weekend of very mixed emotions.
Almost four years after missing out on a 50-kilometer gold medal to convicted Russian doper Sergey Kirdyapkin, Tallent found out he is to be presented with his newly-awarded medal on June 17 in Melbourne.
Then he got back to the business of walking in Rome, where the 31-year-old finished second behind Italian Alex Schwazer in the 50 km walk at the IAAF World Race Walking Team Championships Sunday.
Just nine days ago, Schwazer returned to the sport after a three-year nine-month suspension for taking banned substance Erythropoietin (EPO) — a hormone that controls red blood cell production.
His initial four-year ban was reduced after he cooperated with anti-doping authorities, allowing him to compete at this year's Rio Olympics.
Schwazer's victory was heavily criticized by some fellow athletes, with Canadian walker Evan Dunfee labeling his win a "disgrace."
Italy's Olympic Committee (CONI) was not immediately available for comment regarding that criticism of Schwazer.
He also pipped Tallent to 50 km walk gold at the 2008 Beijing Olympics but was not found to be doping until a week before London 2012, citing pressure to retain his title.
Earlier this year, Tallent was told he was to be retrospectively handed the 50 km walking gold medal from London 2012, after initial winner Kirdyapkin was eventually stripped of his title in February.
"History has been rewritten tonight," Tallent told Athletics Australia in March. "I am the Olympic champion and justice has been served."
Read more: http://www.cnn.com/2016/05/09/sport/jared-tallent-olympic-gold-rio-2016-sergey-kirdyapkin-alex-schwazer/index.html