Immigration officials consider bid for new 'hotel-like' detention center
Stratton Oilfield Systems seeks to turn former Texas work camp into 500-bed facility with improved living conditions, which activists say would still be prison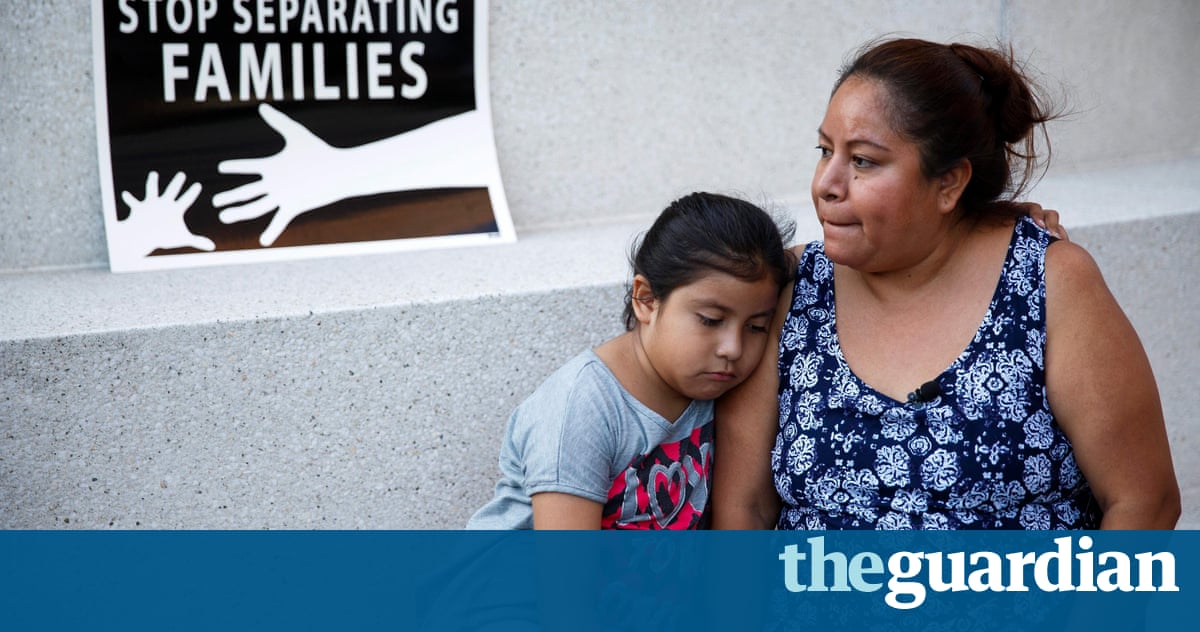 Federal immigration officials are moving forward with plans for a new 500-bed family detention center to house migrant women and children, even as many advocates and politicians have called for the closure of such facilities altogether.
Officials in Dimmit County, 45 miles from the Texas border with Mexico, say theyll consider a bid on Monday from a firm who says their facility in a 27-acre former work camp for oil workers would provide dramatically better conditionsthan two other family detention centers in the state.
Those facilities have faced complaints of poor food, inadequate medical care and allegations of sexual abuse from detainees, activists and the US Civil Rights Commission.
Our facility offers a community-based alternative that will allow children to live in a home setting, attend school, and access critical legal and social services, Stratton Oilfield Systems said in a pitch to potential partners.
They want to have it with no fence, said Mike Uriegas, a commissioner in Dimmit County, who says he first met with Stratton Oilfield Systems two weeks ago. They dont want to appear like a prison or detention center.
But Cristina Parker, Immigration Programs Director for Grassroots Leadership, said she and other advocates object inherently to the concept of a detention center for families fleeing violence, regardless of the purported conditions.
If you are not free to leave, then it doesnt matter how nice it is, Parker said. Its a prison.
The Obama administrations use of family detention centers that hold children and mothers has become one of the most contested elements of Americas border protection program.
Advocates have called on the Obama administration to pursue alternatives for families who are waiting for courts to hear pending asylum and immigration claims.
Our families have witnessed their loved ones killed before their eyes, they have been the victim of rapes and robberies simply because of who they are, said Jonathan Ryan, executive director of the Refugee and Immigrant Center for Education and Legal Services. Our refugee families need protection, not jail.
Earlier this month, a nearby Texas county had considered a bid with British firm Serco, which has a history of immigration detention center scandals in the UK and Australia. Jim Wells County voted not to bid on the contract, after some officials voiced concern over past abuse allegations against the firm.
Uriegas said he and other officials are undecided on the Stratton bid and will learn more at a meeting on Monday, which immigration advocates also plan to attend. One group had already heard of the company.
Last July, Strattons vice-president, Shannon A Stratton, tried to pitch the same idea for the closed worker housing in a letter to Grassroots Leadership, an Austin-based organization that opposes the prison industry.
A glossy proposal accompanying Strattons letter showed hotel-like two-bedroom studios with a living room, kitchenette and full bathroom. Stratton noted a federal judge has said women and children should be released from other detention centers where they are being held in deplorable conditions.
The Studios in Carrizo Springs offers an excellent solution and is distinctly different from the facilities that are so highly criticized in the media and by human rights groups, Stratton wrote. Families could be free to come and go while they await immigration hearings, receive education about their rights and responsibilities, and pursue permanent relocation and employment.
It shows they dont quite know what is going on, said Cristina Parker, immigration programs director for Grassroots Leadership. Theyre confused about other things too, because it is blanketly untrue that the families will be free to come and go.
Immigration and Customs Enforcements other two family residential centers in Texas are surrounded by razor wire and high fences.
The proposal emerges just days after the US supreme court blocked Obamas plan to spare millions of immigrants from deportation. He vowed afterward: What was unaffected by todays ruling, or lack of a ruling, is the enforcement priorities that weve put in place.
Read more: https://www.theguardian.com/us-news/2016/jun/25/immigration-detention-center-texas-stratton-oilfield-systems