Hung parliament a possibility after tight Australian election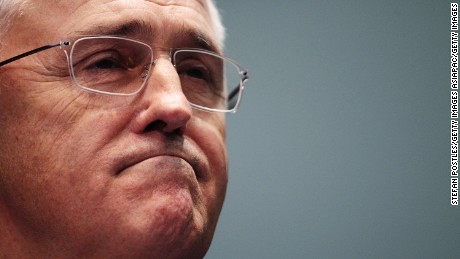 (CNN)Australia's national election is too close to call after a large protest vote against the government left the country at risk of its second hung parliament in six years.
Late Saturday night, the center-right Liberal/National Coalition government was fighting to gain a majority government of 76 seats, with the result likely to remain unknown on election night.
Healthcare and education spending were important issues for voters, according to exit polling, as results showed a late-swing to the center-left Labor party.
The Liberal/National Coalition government was asking for a second term, after being elected with a solid majority in the last national vote in 2013.
Prime Minister Malcolm Turnbull has been in the fight of his political life during the two-month long election campaign, as polling in the last week showed a tight race nationwide against Labor challenger Bill Shorten.
Turnbull has only been prime minister since September 2015, when party members voted to oust
former leader Tony Abbott
after his growing unpopularity led to his party losing faith in him.
Speaking to his supporters early Sunday morning, Turnbull said that despite the uncertainty around the results, he was confident the Coalition would form a majority government.
"We live in times of rapid economic change, of enormous opportunities, and enormous challenges. A time when we need to be innovative, when we need to be competitive, when we need to be able to seize those opportunities," he said.
Turnbull said about 30% of the vote had yet to be counted and it was unlikely the final result would be known until Tuesday.
In Melbourne, his opponent Shorten said the result was a rejection of Turnbull's economic agenda. "Mr. Turnbull will never be able to claim that the people of Australia have adopted his ideological agenda," he said at an event.
Monash University senior lecturer in Australian Politics Nick Economou told CNN he expected the Coalition government to return to power, with a tiny majority.
"I don't think (anyone) thought it would be quite like this, but it's reminiscent of a series of Australian state elections we've had in recent times, so perhaps this is the new norm where everyone is on a knife edge and you get a number of small party MPs," he said.
Minority parties make gains
The Coalition had won about 70 seats late on Saturday night, with between six and seven yet to be determined, as both major parties lacked the 76 needed to form a majority government.
Minor parties could decide who forms the government in Australia, including the left-wing Australian Greens who won more than 10% of the vote.
On the other side of the political specturm, Economou said anti-immigration One Nation Party leader Pauline Hanson appears to have been returned to the Australian Parliament, more than a decade after she was voted out after achieving notoriety national-wide for saying the country was being
"swamped by Asians."
"She's polling really strongly in Queensland, and she'll get a Senate seat," he said.
"If the major parties want to stem the drift to a larger protest vote, they need to treat the voters and the democratic process with more respect and a lot less cynicism," she said.
Healthcare, education important issues
An exit poll by
CNN-affiliate Sky News
just before the polls closed showed a close race across the country, with 72% of voters saying healthcare spending had been a "very important" issue in their vote.
Shorten and the Labor Party had made Australia's public health system a prominent issue in the campaign, promising to restore cuts made by the Coalition government.
In addition, 63% said education policy had also been an important issue for them, while 51% said they were focused on economic management.
Millions of Australians headed to the polls after voting opened at 8 a.m. across eastern Australia, as the traditional election sausage sizzle featured prominently on social media under the hashtag
#democracysausage
.
Shorten was
widely mocked
on Saturday after he decided to eat his traditional sausage in a bun from the side, rather than eating it vertically.
Read more: http://www.cnn.com/2016/07/02/asia/australian-election-results-turnbull-shorten/index.html