Humanitarians must innovate more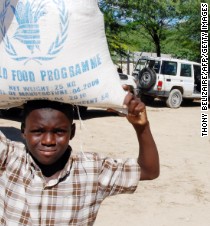 (CNN)The world we live in faces humanitarian need on a scale we have never seen before. And yet humanitarian workers and donors find themselves stretched beyond their capacity to manage the ever-growing demands with which they are confronted.
What can we do to help those who are dedicated to helping others?
A vital way to bridge the gap between demand and capacity is innovation, using the latest developments in science and technology. For example, satellite pictures can tell us where people have fled and how far flood or earthquake damage extends. Artificial intelligence and remote sensing can process vast quantities of data in a short time, while mobile communications technology can connect responders directly with affected communities, even when security conditions prevent a physical presence. And 3-D printing can produce medical equipment on demand in a crisis when a logistics pipeline fails. Meanwhile, cash transfers via mobile phones are becoming standard practice alongside in-kind relief in emergencies.
But the incorporation of such technologies has so far been slow and of limited application. The reality is that it is not easy for humanitarian aid organizations to lift their heads from constant crises enough to do this alone.
This has to change. If innovative approaches are going to be found and applied quickly and at the scale needed, the entrepreneurial and humanitarian communities must be able to work together more easily and effectively. We need to mobilize the skills and talents of the private sector in ways we have not succeeded in doing.
Next week, the world's leaders will be gathering in Istanbul for the first World Humanitarian Summit. The aim is to agree a series of commitments to "reshape aid." One of these needs to focus on more and better innovation. Indeed, a new Global Alliance for Humanitarian Innovation will be launched at the summit, with the aim of providing a global platform for collaboration between the humanitarian, business and research communities to accelerate transformative improvements. This should help create a shared space for the development of innovative tools and partnerships.
But for the alliance to work, humanitarians need to know exactly what they really want. To kick-start this process, a groundbreaking consultation meeting of interested international funders was convened in Washington in April. The organizers of this gathering, Enhancing Learning and Research for Humanitarian Assistance, will be launching in Istanbul a Global Prioritization Exercise for Humanitarian Research and Innovation.
If we are to transform the humanitarian system into a high-tech, nimble and effective operation, we need financial investment as well as new technologies. A recent study by Deloitte estimated that less than 1% of humanitarian financing is allocated to research and development, a low figure by any standard. Donors and humanitarian organizations must help — with the aid of outsiders — to change this.
What all this means is a unique opportunity for local and international entrepreneurs and investors to become partners in the humanitarian effort. Governments such as the Netherlands, United Kingdom, Denmark and Australia have already said they will join the global alliance initiative, together with relevant U.N. agencies and nongovernmental organizations. We now want more private sector and academic partners to add to those such as Philips and Microsoft and Fordham and Leiden universities. I am sure from my experience that the will and enthusiasm are there if we can provide the right platform.
The World Humanitarian Summit provides the opportunity to bring the humanitarian system into the 21st century. Supporting innovation is part of delivering that ambition.
To read more copy this link into a new tab: http://edition.cnn.com/