How architecture can redefine the refugee crisis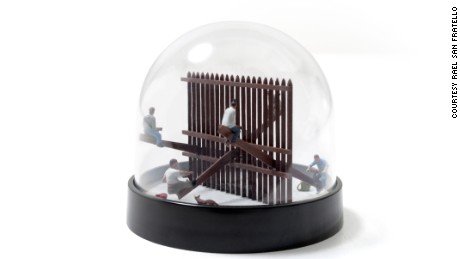 (CNN)
While countries like Australia continue to enforce immigration policies that deter and deny access to asylum seekers and refugees, since 2001, they have also maintained unchecked offshore detention centers on the Pacific islands of Manus Island, Papua New Guinea and Nauru for indefinite detention.
The country employs these inaccessible places in parallel with the continent's legal removal called "excision" from the map as a means of denying ethical responsibilities toward the powerless.
Calls for renewed scrutiny on how the design and maintenance of such centers mediates the rights of individuals still abound and insist that architects, landscape designers, and planners pay close attention.
Are human rights at odds with the same structures that we use to define our cultures, our nations? Further, how are the rights of refugees determined when placed into the hands of the public?
Interactive online platforms such as
Refugee Republic
by the Dutch designers Submarine Channel and the ongoing project, The List by Banu Cennetolu seek to visualize that which we do not know while also providing the visual elements that may secure future stabilities for shelter.
The totality of forced displacements throughout the world is incalculable. Shelter is no longer something we can romanticize through a backward glance to history, but the design and implementation of security for those who inevitably continue attempting to cross borders is about potential not denial.
Architecture has become the litmus test of society's capacity for holistic and compassionate security.
Languishing on the seemingly porous borders of our nations and cities, millions without voices await recognition. Visibility. Dignity.
To read more copy this link into a new tab: http://edition.cnn.com/