Global dance-off as NZ police, NYPD embrace 'running man' challenge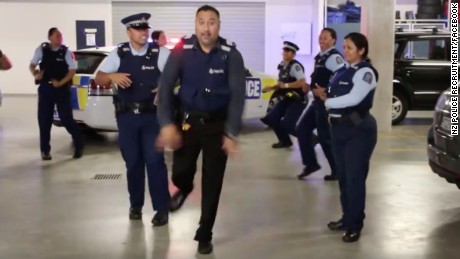 (CNN)Police in New Zealand have sparked an international dance-off between law enforcement officers after their response to a "running man" dance challenge went viral.
A clip of eight New Zealand officers dusting off their best '90s dance moves in front of a police car has been viewed more than 5 million times since it was posted Tuesday on the force's Facebook page.
"We catch people on the run every day, this was a new #runningmanchallenge for our team," read the post on the New Zealand Police Recruitment account.
The video is part of a
social media phenomenon
— embraced by professional athletes including members of the
Los Angeles Dodgers
, Miami Heat and Denver Broncos — in which people film themselves dancing to the Ghost Town DJ's 1996 hit "My Boo."
The New Zealand officers called out police forces in New York, Los Angeles, various Australian states and the UK's Isles of Scilly to match their moves — and their challenge was promptly accepted by New York's finest.
"#RunningManChallenge accepted, NZ Police Recruitment!" read the Facebook post from the New York Police Department, sharing a video of officers dancing alongside the Brooklyn Bridge, assisted by local students.
The clip ends with a flourish, as an officer performs a "mic drop" with his police radio. The officers threw down a gauntlet at the New York City Fire Department, Boston Police Department and Police Scotland to bust a move in response.
New Zealand police liked what they saw, tweeting "Kapai (Maori for 'well done') to @NYPDnews for accepting the #RunningManChallenge. Love your work!"
But other police forces have yet to step up to the challenge.
Police on the Isles of Scilly — who enjoy a large social media following despite their remote location and tiny population — demurred.
"I note that the gauntlet has been laid down by (New Zealand police) for a dance off with us. I also note that they can draw on a supporting cast of thousands of officers and staff whereas we have a modest team of five and occasionally a cat," wrote a local officer on the police's Facebook page, identifying himself as Sgt. Colin "Dad Dance" Taylor.
"Our combined age on this small rock in the Atlantic (including feline years) is over 300."
Australia's Queensland Police Force also declined.
"Well played NZ Police Recruitment. Bet you can't do that in jandals," read a post on its Facebook page, using a New Zealand expression for flip-flops.
Read more: http://www.cnn.com/2016/05/04/asia/police-running-man-challenge/index.html