French farce illustratesEnglands failure to move with the times
Roy Hodgson, his players, the FA and the clubs must share the blame after another grim tournament for England but a quick fix is not on the cards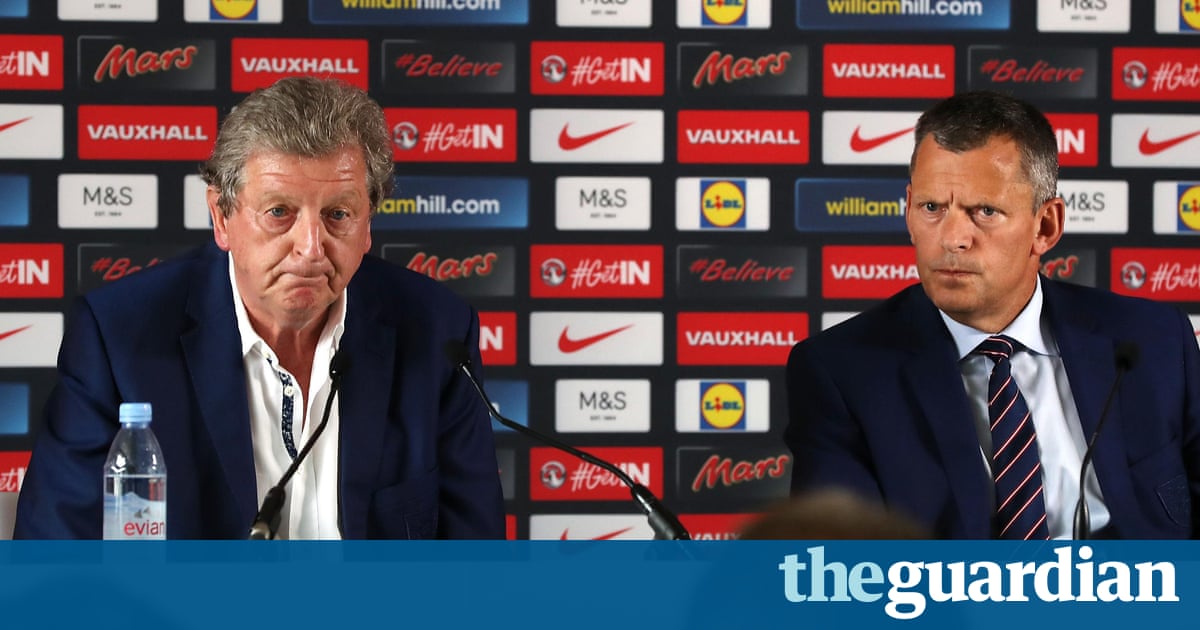 Here we go. Again. Once more unto the breach. Every two years the inquest begins and it can be as confusing, muddled and arbitrary as the decisions that got us there.
Take one part micro issues (tactics, manager, team selection) mix with two parts wider flaws (the dysfunctional structure of English football, lack of opportunities for English players, closed cultural mindsets, a lack of game intelligence at moments of high pressure and so on), add tears of bitter disappointment, mix with a slug of ennui and serve. At least until the next Premier League transfer saga comes along. Then, see you back here in 2018.
It was little noted amid the discomfiting sight of a broken and bitter Hodgson taking his leave that Englands dismal failure against Iceland also brought down the curtain on Greg Dykes tenure as the Football Associations chairman.
He officially leaves Wembley on 22July but the process of selecting his successor from a shortlist of two or three is well under way and he is all but done, his final act being to trigger a pointless row over whether he should have restated Hodgsons targets on the eve of the Slovakia match.
An era that began with bold promises to tackle the arrested development of young English players and a vow to win the World Cup in 2022 has ended with him slouching out the back door, his belated attempt to tackle governance issues at the heart of so much that is wrong with the FA in tatters. An appointment that began in hope has ended in failure and recrimination. Sound familiar?
To simply concentrate on what went wrong during the month England spent in Chantilly is shortsighted. Likewise, to suggest that Hodgson and his players bear no fault and their French farce was entirely down to wider factors is also demonstrably false. The complex truth lies in between.
The point, of course, is that some of those small, devastating details (complaints about duvets, the daft toy lion, Jamie Carraghers telling revelation that when he was away with England only two or three of the squad would bother to watch other matches on TV) are symptomatic of wider failings.
The story of Englands 50 years of hurt is a multi-layered one. But to simply repeat the mistakes of the past and desperately hope the latest spin of the roulette wheel will turn up a messiah who can put together the broken jigsaw is the definition of madness. And yet once again a trio of men looking remarkably like a reconstituted version of the puffed-up Club England structure dismantled under Dyke when he arrived four years ago will be locked in a room and tasked with searching for a silver bullet.
Where is the formal external input or challenge? Will it be a truly evidence-based review? Will there be genuine input from former players and managers?
As an aside, it is a curious fact that the answer to every question in English football has become David Gill. The capable but stretched former Manchester United chief executive now combines roles at his club, Uefa and Fifa with that of FA vice-chairman.
Along with the FA chief executive, Martin Glenn, and the increasingly influential technical director, Dan Ashworth, who has built his own power base at St Georges Park, Gill will decide who the next national manager should be. The analogy of Eddie Jones and English rugby is a seductive one. It casts Hodgson as Stuart Lancaster, the well-meaning company man who did everything right except his main job and suffered a kind of brain freeze amid the unique pressures of a major tournament.
But that ignores the reality that football is not rugby. To make one blindingly obvious point, it is only 13 years since England won the Rugby World Cup, not half a century. And while to walk into Pennyhill Park during the pressure cooker of a home World Cup was remarkably redolent of the grim, airless atmosphere of a football campaign, the roots of failure and fear were not so deep. In rugby, despite periodic bouts of bruising negotiation, the national side still holds sway and most things within the game are geared to its success.
So we must look more widely. Spool back to 2010 and Englands humiliation in Bloemfontein (by Germany, admittedly, rather than Iceland). A few of the long-festering issues identified then have been addressed in some way, if not always wholly or satisfactorily.
There is more unanimity of purpose over player development, from small-sided games at youth level to a huge investment in academies at elite level. The FA produced a proper coaching manual, the first since the long-ball era of Charles Hughes, to try to introduce structure into how the game is taught.
There are the first stirrings of long-overdue attempts to correct the woeful imbalance in the number of 3G pitches and grassroots facilities even if 20 years of underinvestment at a time of Premier League plenty has left a huge hole to fill.
The embarrassing imbalance in the number of qualified coaches compared with other countries is also starting to be addressed, if not nearly fast enough.
St Georges Park, English footballs Xanadu erected in the countryside miles from anywhere, has long been cited as a crucial cog in the wheel and continues to divide opinion. With its library of coaching manuals and scholarly air, it was partly an attempt to reverse English footballs traditional bias against understanding aiming to end the jobs for the boys mentality that has held back attempts to develop homegrown coaches and try to develop some continuity through the age groups.
Yet while the real power lies elsewhere, it can feel an impotent gesture. The now-derided England DNA project initiated by Ashworth was an attempt to at least begin to address the familiar and fair criticism that the FA had tended to simply chase the latest bandwagon whether French, Spanish or German and define what our football should aspire to be. That it ended up a watered-down exercise in management mumbo-jumbo is perhaps instructive.
Premier League clubs have hugely increased their investment in academies. Whether that is achieving the desired end is debatable, with particular concern over the long-term effects of hot-housing tens of thousands of youngsters fished from the pool at the age of six or seven then periodically culled and chucked back in, disillusioned and despairing.
At the top end, the opportunities for those who do make it through to gain experience remain limited. Meanwhile, all sorts of evidence suggests our youth-development system is not producing players who can think for themselves on or off the pitch.
Although lectures from the tarnished golden generation might stick in the craw, it is impossible to compare our players with those from elsewhere and not conclude that in the vast majority of cases they lack robustness.
It is a point made so often that it has almost passed into cliche but to hear Mats Hummels, for example, talk at length post-match in his second language about how German players deal with pressure and criticism is to realise just how far Englands have to go.
Because of the lopsided relationship between the Premier League and the FA, our game lacks the ability to breathe in all sorts of ways from the nine-year-old at a Premier League academy who is forbidden to play with his mates to the airless, arbitrary decision-making structures.
The truth is this wont be a defining moment because it cant be. The ship has long since left the port. To be fair to Dyke, he has often spoken of his fear that the Premier League is becoming a competition that derives its value from the atmosphere generated here but is largely owned by foreigners, managed by foreigners and played by foreigners.
Yet to expect its clubs to put the interests of the national side anywhere near their own is to ask the impossible. Why would they? And why would managers living game by game have anything but the most cursory eye on developing talent?
The flipside is another familiar and valid concern that the riches and insularity of the English game have militated against players and coaches striking out beyond our shores.
Already the transfer chatter has begun to drown out the remainder of the tournament. Soon the Premier League soap opera will be back, restocked with a fresh cast of characters say hello to Pep, Jos, Antonio, Claudio, Kloppo and the rest and lubricated by an 8.3bn TV deal.
The boring stuff will be relegated back to the bottom of the in-tray. Not least the deadlock on the FA board that leaves it trapped in an endless battle between the vested interests of the professional game and those of the so-called national game, rather than those of the whole game. It leaves the enlightened balance between the two that was arrived at in Germany almost impossible to strike.
Or the failure to reform the aged, white and male FA Council to become a more diverse, representative body. Or the hurly-burly short-termism of our domestic league that prevents any club taking decisions that would benefit the national side in the long term.
In an ideal world that FA Council would act as the games conscience, providing wise counsel and oversight on everything from youth development to club takeovers and, yes, the search for a new England manager. Instead, it remains an enduring, blazer-clad symbol of English footballs inability to move with the times.
At that grim Chantilly press conference, to be filed alongside other similar dead-eyed post-tournament examples down the years, Glenn talked up the innovations he had been able to negotiate the sharing of medical records, earlier player release, the idea of taking England games on the road but they seemed so obvious, such small beer in comparison with the big structural challenges the game faces that they couldnt help but show up the paucity of his power.
Read more: https://www.theguardian.com/football/blog/2016/jun/29/england-roy-hodgson-fa-farce-euro-2016