Flight of the emu: story of the big bird photographed fleeing California wildfire
Tracking down the birds owner didnt seem like a daunting a task, but it turns out there were several emu-related incidents around the California wildfire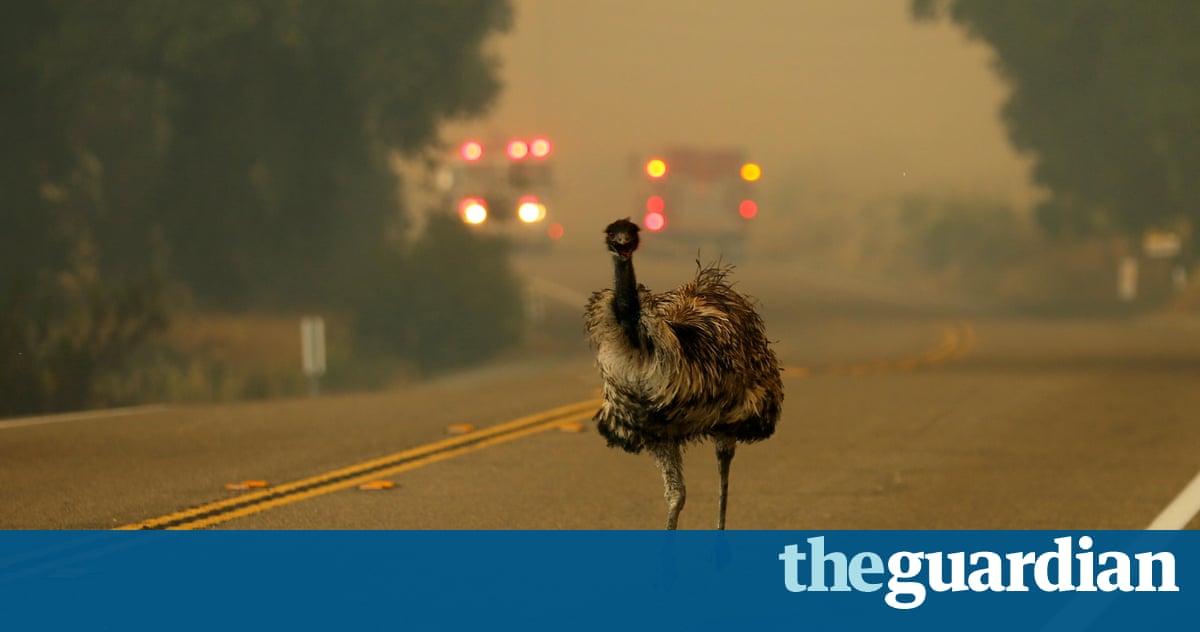 The emu is caught mid-stride, beak agape and eyes agog. Under a smoke-darkened sky, it races down a rural highway with the glare of fire engines behind it.
The incongruous photograph of a giant bird native to Australia fleeing a California wildfire near the US-Mexico border captured our imaginations. Where did this fleeing emu come from?
Tracking down the owner of a wayward ratite (thats the class of large, flightless birds that includes ostriches, emus, and cassowaries) did not seem at first like too daunting a task. But it turns out that there were more than a few emu-related incidents around the border fire this week.
On Monday evening, the same day that the flightless flight of the emu was photographed, a 32-year-old man was arrested for allegedly firing a shotgun to scare off an animal services worker who was attempting to rescue an emu with singed feathers from his property.
When all heck broke loose, the emu took off, said Dan DeSouse, deputy director of the San Diego County division of animal services.
Mike Blake, the Reuters photographer who snapped the image of the emu, only saw it briefly.
It all happened in a few seconds, Blake said. The emu zooms past me as I zoomed out with my lens, I spun and followed him around as he headed off into a field away from the flames.
The next day, Blake came across another emu nearby, this time being herded off the highway by officers from the San Diego sheriffs department, Cal Fire, and the US Customs and Border Protection. That emu also made a run for it, Blake said.
Read more: https://www.theguardian.com/world/2016/jun/23/emu-runs-away-california-wildfire-san-diego