EU migrants may face 'right to stay' curbs – David Davis – BBC News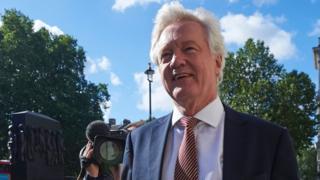 EU migrants who come to the UK as Brexit nears may not be given the right to stay, David Davis has said.
The new Brexit secretary told Sky News there might have to be a cut-off point if there was a "surge" in new arrivals.
But he said setting a date now could in itself prompt a "rush" of people moving before any deadline – and any steps must be compatible with EU law.
It comes amid pressure on the government to guarantee the right to stay to EU citizens already in the UK.
Ministers have said it would be "unwise" to fully guarantee EU citizens' rights without a reciprocal deal for Britons living in other EU countries.
Mr Davis, who was appointed by the new prime minister, Theresa May, to oversee the negotiations on the UK's exit from the European Union, said he wanted to secure a "generous settlement" for both EU nationals in the UK, and British citizens abroad.
Mrs May has previously suggested migration could rise ahead of the UK's eventual exit from the EU.
'Beat the deadline'
"We have to do it all together," Mr Davis told Sky News' Murnaghan, saying that this stopped "anybody being used as bargaining counters".
He added: "If we make a very generous settlement as I'd like to do, then people are going to say, 'Oh but then that'll attract lots more people in because they want to beat the deadline'.
"And so what I've said is, let's deal with that issue when we come to it. One way of dealing with it could be saying 'OK, only people who arrived before a certain date get this protection' – there are other ways too.
"But we've got to do it within the law as it stands because at that point we'll still be within the European Union."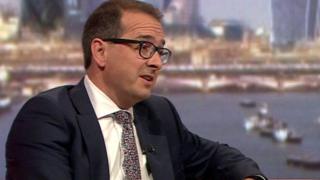 Mr Davis also said it was not guaranteed that such a measure would need to be put in place.
"Bear in mind this is only an issue if there is a surge in people arriving, and I don't think that is by any means certain," he said.
Asked if he thought there was a danger that creating a cut-off point could encourage people to move to the UK, he said: "No it won't be like that."
"If you set a date, that's when you start the rush," he added.
There have been calls from Remain and Leave campaigners to guarantee the rights of EU citizens already living in the UK.
Mrs May, who supported the Remain campaign, has previously said she wanted to guarantee their position and said this would be factored into negotiations over the UK's exit package.
Labour MP and Brexit campaigner Gisela Stuart said earlier this month that the UK should not "retrospectively change the rights of its citizens", and that anything other than a guarantee was "a failure of this government to protect its people".
On the timetable for the UK's EU exit, Mr Davis said he wanted to trigger Article 50 – the formal process for withdrawing from the bloc – by "early next year", allowing time to develop the UK's approach to the "huge negotiation" ahead.
Second EU referendum?
Meanwhile, Labour leadership hopeful Owen Smith has suggested the possibility of a second referendum on EU membership, saying he did not think people should accept that Britain was on "a definite path out".
"I think we need to make sure people are satisfied. We trusted people, rightly, to take the decision. We can trust them again in 18 months time to check it's absolutely what they wanted," he said.
But he said a second vote depended on the Brexit deal the UK negotiated with the EU.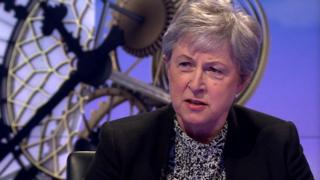 But Labour MP Gisela Stuart – a leading Brexit campaigner – told the BBC's Sunday Politics show it would be a "disastrous step".
"Both political parties need to look and search for why they were so out of step with their electorate – particularly the Labour Party – a huge swathe," she said.
She added: "We've asked them. They've reflected by larger number than any government that's here and said we want to leave. And they expect us to get on with the job now."