Egypt sentences 6 people to death, including 2 Al Jazeera journalists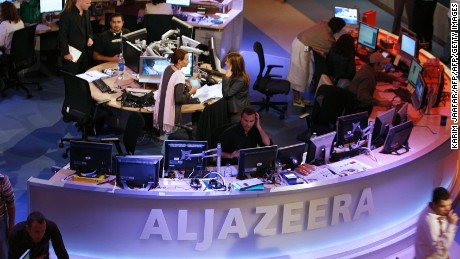 (CNN)An Egyptian court handed down death sentences to six people, including two Al Jazeera journalists, for alleged spying.
The six, along with former President Mohammed Morsy and his aides, were accused of leaking state secrets to Qatar.
The court ruled Saturday in support of a verdict ratified by Egypt's religious leaders in the case dubbed the "Qatar spying case."
In addition to the two former employees of the Qatar-based network, a reporter for Rasd media channel was also among those convicted. The journalists were tried in absentia.
The journalists are former director of news at Al Jazeera's Arabic channel, Ibrahim Mohammed Helal; former Al Jazeera producer Alaa Omar Mohammed Sablan; and Asmaa Mohammed al-Khatib, a reporter for Rasd.
Human rights advocacy group Amnesty International called the charges "ludicrous" and called for them to be dropped.
"Egypt's broken and utterly corrupted justice system is now little more than a handy tool for the authorities' repression of any vestiges of opposition or criticism," it said.
Last year, three Al Jazeera journalists were freed from Egyptian prison after more than 400 days behind bars.
Mohamed Fahmy and Baher Mohamed were freed on bail pending a retrial on charges that they supported the banned Muslim Brotherhood, while their colleague Peter Greste was deported to his native Australia.
The three were
sentenced
— Greste in absentia — to three years in prison after a lengthy retrial. Mohamed Fahmy and Baher Mohamed were later
pardoned
.
Read more: http://www.cnn.com/2016/06/19/middleeast/cairo-death-sentence-qatar-spying-case/index.html