Drought-stricken California looks to Australia for tips on recycling water
Australia battled a 14-year drought with recycled toilet water, rooftop tanks and shared showers and now California is hoping to do the same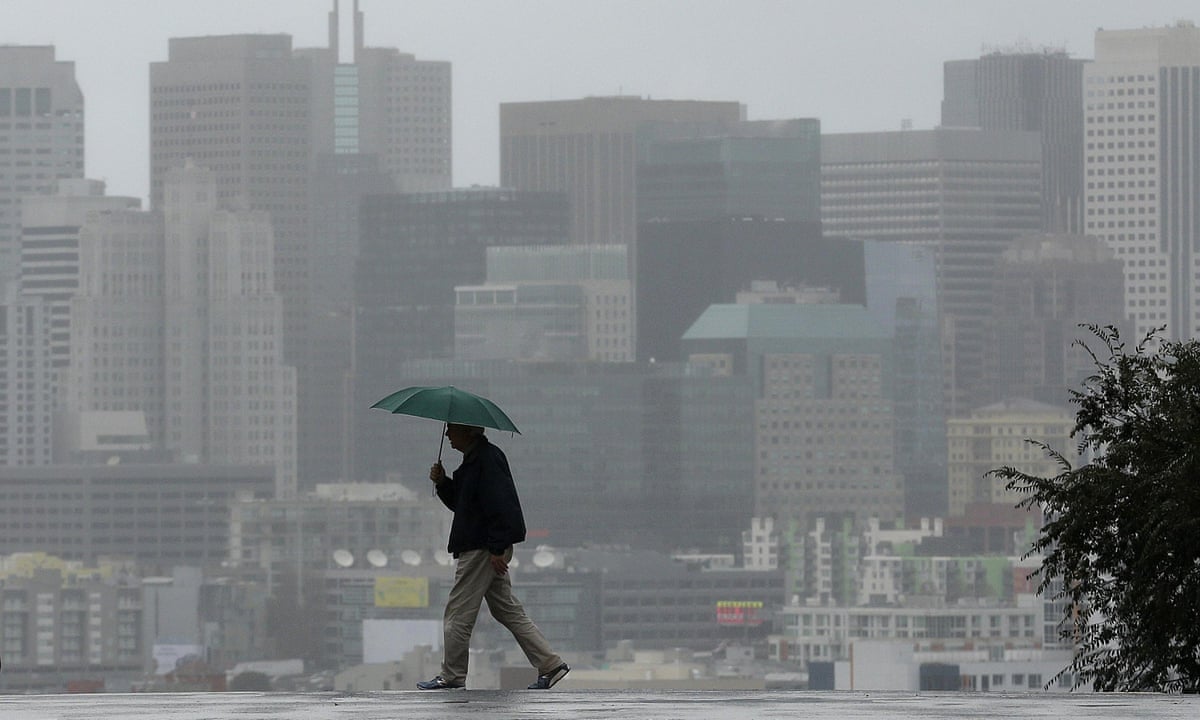 As hopes that a much-hyped Godzilla El Nio event will banish Californias record drought fade, the state is starting to look for clues from overseas on how to conserve each increasingly precious drop that does fall on its parched land.
The water capture efforts of Australia, itself plagued by a lengthy recent drought, are in the sights of Californian politicians mindful of how the pulses of rain that did arrive in January resulted in much of the water washing out into the sea.
The El Nio-driven precipitation did replenish the vital Sierra Nevada snowpack, which provides much of southern Californias drinking water as it melts, and douse the states reservoirs, even though nine out of the 12 largest catchments are still below their historical averages.
But with climate change set to drive more frequent, intense droughts, Californians may have to get used to recycled toilet water, rooftop water tanks and official pleas to share showers that have become commonplace Down Under following a brutal millennium drought that lasted from 1996 to 2010.
We rely a lot on Australia for our thinking. They have overtaken because of the depth of their crisis, said Felicia Marcus, chairwoman of the State Water Resources Control Board, which regulates Californias water.
We captured over two thirds [of the El Nio rains] but we need more storage of all kinds. Australia has done a remarkable job. We are trying to catch up with them. I envy their model, I really do.
Marcus said Australia is light years ahead of California in monitoring water shortages. The US states cause isnt helped by the fact it has more than 3,000 individual water agencies as well as little idea how many landholders have drilled wells into their properties it may be one million or two million.
There are other differences that California is investigating. In times of shortage, Australian sports grounds are only watered by recycled, or grey, water. An estimated 2.3 million Australians, about 10% of the population, have rainwater tanks that capture water for household use. Farmers are able to sell their water rights to the government in return for upgraded irrigation systems that use less water.
Community-led determination to not waste a drop of water is a key part of Australias success in surpassing a target where each person used, at most, 37 US gallons of water a day. While California has largely fulfilled its goal of slashing water use by 25%, the recent rain may have triggered a bout of complacency.
The latest figures show just 12% less water was used in February compared with 2013, prompting speculation that the target will soon be lowered. A third of California is still in exceptional drought, affecting 34 million people.
The level of seriousness in dealing with drought is bluntly more evident in Australia at every level than it is in California, said Jay Ziegler, the San Francisco-based policy director of Nature Conservancy. Australia has come to terms with a more comprehensive long-term strategy to address the challenges of drought and climate, and in California we are just beginning to go down that path.
Even though the El Nio wasnt as strong as everyone hoped, it proved just strong enough to erase Californians memories of how severe the drought is. Weve taken a big sigh of relief that the reservoirs are beginning to fill up again. As a result, people have stepped back from smarter, long-term water reform.
Californian lawmakers joined Ziegler and other not-for-profit group representatives for a trip to Australia late last year to get some ideas on how to tackle their own drought crises.
It was eye-opening, said Kevin de Len, president of Californias senate and leader of the delegation. It is clear that the Australian government and in particular the states has taken a much bolder, active role in dealing with their water crisis than we have, and it was inclusive. We can do more here, and it doesnt have to be us versus them among the various interests.
There is evidence of progress, however. Los Angeles is instituting measures to capture storm water, so it doesnt slip away after a deluge. The city has unveiled plans to collect 3.3bn more gallons a year from projects under construction, with the aim of capturing up to 26bn gallons during wet years.
The state is also turning its attention to water capture, with part of its $7.5bn water bond set to be used for proposals such as growing the small number of people who have rainwater barrels.
Meanwhile, legislation will start to measure the largely unregulated use of groundwater by farmers, who consume about 80% of the states supply. Deeper and deeper groundwater drilling by landholders has resulted in parts of California sinking by 13 inches in a matter of months.
More focus needs to be put into water capture efforts and groundwater replenishment rather than more dams, according to Jennifer Clary, California water program manager for Clean Water Action.
In southern California, which had less than normal rainfall this year, local governments and water agencies have begun making commitments to capture and infiltrate stormwater, cleanup groundwater, recycle wastewater and promote local projects to recapture and reuse grey water, she said.
Yet these projects, that create local jobs and improve the local environment, receive less funding and less attention than the next big dam.
The pressures on California are only set to increase, meaning the state, which was the first US jurisdiction to institute across-the-board water use cuts, will probably have to lead the way domestically again.
A sobering report released by the federal government in March found that the western states are set to experience a temperature increase of 5-7F (3-4C) by the end of the century, with declining snowpacks and decreasing rainfall.
The report states that in southern California, warming and population growth are projected to increase water demand, reliance on imported water and the use of groundwater in the area, leading to development of alternative water supplies, such as recycled water.
So are Californians ready for this change? Marcus, the states top water regulator, believes so.
I think there will be drought memory, people do get it, she said. I dont think itll go back to its original shape. In the late 1990s, people learned what they could do indoors with showers and toilets to save water and in this drought theyve learned how to save water outdoors.
We have to capture the water in buckets and I think people understand that. Hopefully the tough love over the past year keeps us on the march to where we want to be with climate change and population growth.
Read more: http://www.theguardian.com/environment/2016/apr/07/california-drought-recycled-water-australia-el-nino