China unveils 'tomato and eggs' 2016 Olympic uniform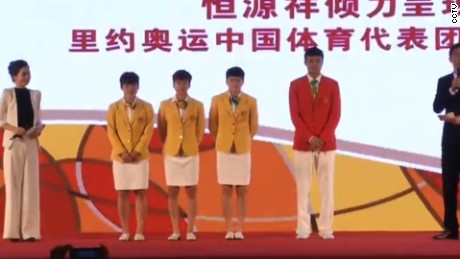 Hong Kong (CNN)The idea was to wrap Chinese athletes in the flag.
Instead, the team being sent to the Rio Olympics this year will be wearing what some have likened to "stir-fried tomatoes and eggs."
It's not a unique criticism.
For years, China's national colors of red and yellow have attracted unflattering comment when used as inspiration for team uniforms.
"It's 'fried eggs with tomato' again," tweeted state media People's Daily.
"Stir fried tomatoes and eggs never change. Can't you use a different color? It's so ugly," said Weibo user @zhuzhuzhuzhurou.
Another, @woshiyamiedie, slammed the outfits as too Western. "Don't we have our own style? As for colors, even though it's national flag colors, there must be a smarter way to use them."
The uniform features a red coat, white shirt and patterned tie for male competitors. Female athletes will wear a yellow coat, white shirt and skirt.
A number of countries have unveiled their team uniforms ahead of the 2016 Games, even as doctors urge the World Health Organization
to postpone or move them
due to fears the Zika virus will spread.
South Korea has infused its new Olympic wear with insect repellant to reduce the threat of infection.
The designer of China's kit Ye Chaoying told Chinese state news agency Xinhua that "we hope our athletes will feel like wearing our national flag" as they enter the stadium when the Games open in August in Rio.
Chaoying's family business, the Hengyuanxiang Group has been Chinese athletes' clothing sponsor since the 2008 Beijing Olympic Games. He has reportedly embraced the reaction to his bold designs by dubbing himself "The father of stir-fried tomatoes and eggs".
To read more copy this link into a new tab: http://edition.cnn.com/