Biplane adventurer Tracey Curtis-Taylor crashes in Arizona desert – BBC News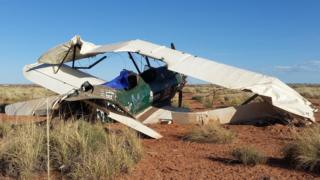 A British adventurer flying a vintage biplane across the US has crashed in the Arizona desert.
Tracey Curtis-Taylor, 54, was flying a classic airmail route from Seattle to Boston when her 1942 Boeing Stearman aircraft got into difficulties.
She was unhurt but her Spirit of Artemis plane was badly damaged when it lost power between Winslow and Phoenix.
In January, the self-styled "Bird in a Biplane" flew 14,600 nautical miles from the UK to Australia.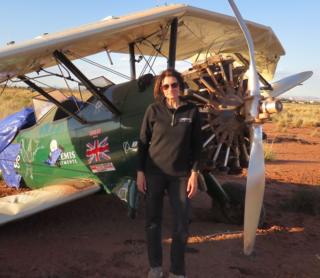 She passed over 23 countries and made some 50 refuelling stops as she retraced pioneer Amy Johnson's 1930 flight.
Ms Curtis-Taylor's latest challenge was to fly the 4,700-nautical mile transcontinental airmail route from Seattle to Boston between 29 April and 30 May.
"I am stricken to announce that my flight across the USA has been cut short following a crash in the Arizona desert," she wrote on her Facebook page.
"Firstly, I am fine and unharmed, as is Ewald Gritsch who was with me. I would like to thank everyone for their best wishes and support."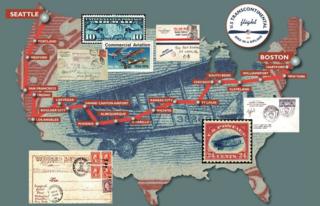 She said her plane suffered a partial loss of power at a height of about 15m (50 ft) after take off.
'Plane cartwheeled'
"The Spirit of Artemis then started to sink, but thankfully there was open desert to the south. I did a gentle left turn and then levelled off.
"It hit the ground and rolled forward about 20ft feet but then the right wheel struck a dense sage root mound which tore off the right landing gear and threw the plane on to its left wing.
"It then cartwheeled tail over the nose in a cloud of sand and dust.
"I am devastated by all of this and profoundly sorry that I won't be able to finish the flight, at least not this year."
It is hoped the biplane will be ready for the Farnborough Air Show in Hampshire in July, as planned, after under going repairs.
In 2013, she flew from Cape Town to Goodwood in West Sussex. The transcontinental trip was part of Ms Curtis-Taylor's bid to circumnavigation of the world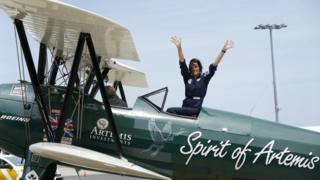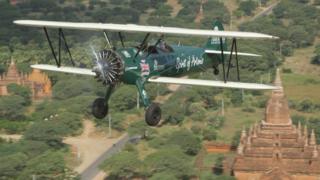 To read more copy this link into a new tab: http://www.bbc.com/news/uk