Bernard Tomic: 'Would you care if you were 23 and worth over $10 million?'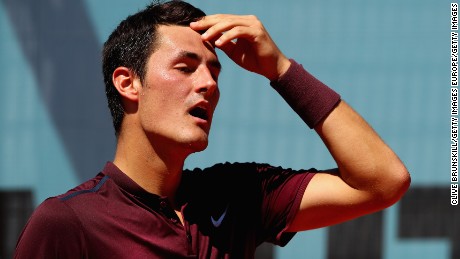 (CNN)He has become known as "Tomic the Tank Engine" — and tennis star Bernard Tomic is courting controversy again.
The Australian was criticized for holding his racquet upside down with the handle pointing forwards on match point in a 6-2 6-2 defeat to Italy's Fabio Fognini at the Madrid Open on Wednesday.
The 23-year-old, who has been accused of "tanking" — not trying — as matches in the past have slipped away, added fuel to the fire in post-match comments.
Tomic — who has voiced ambitions to become a top ten player —
told the Gold Coast Bulletin
: "I don't care about that match point. Would you care if you were 23 and worth over $10 million?"
The world No. 22 gained his nickname after tennis legend John McEnroe accused him of a "tank job" during a straight sets defeat to Andy Roddick at the 2012 U.S. Open.
After the Fognini defeat, the
Sydney Morning Herald wrote
that the player's "attitude was again called into question" as he "threw in the towel."
Olympic doubt?
The Gold Coast Bulletin reported that the latest Tomic row could have implications for his hopes of a place at this summer's Olympics in Rio.
It said Australian Olympic chef de mission Kitty Chiller had been in discussions with Tennis Australia about the behavior of both Tomic and his compatriot Nick Kyrgios.
The players would be guaranteed selection on the basis of their rankings — but they must also be "in good standing with TA" to secure a place.
Meanwhile, World No. 21 Kyrgios progressed in Madrid with a 7-6 7-6 win over Stanislas Wawrinka.
Last year, Kyrgios was
fined $10,000 and given a suspended ban
after courtside microphones at the Rogers Cup in Montreal picked up his comments linking fellow Australian pro Thanasi Kokkinakis to Wawrinka's girlfriend.
A furious Wawrinka confronted Kyrgios in the locker room after the match and called on the tennis authorities to take action — but the duo's rematch in Madrid passed off without controversy.
Read more: http://www.cnn.com/2016/05/05/tennis/bernard-tomic-10-million-madrid-tennis/index.html