Baby Gammy's twin can stay with Australian couple despite father's child sex offences
Judge rules story that couple abandoned Gammy untrue and says risk of David Farnell abusing Pipah very low, although he cannot spend time with her alone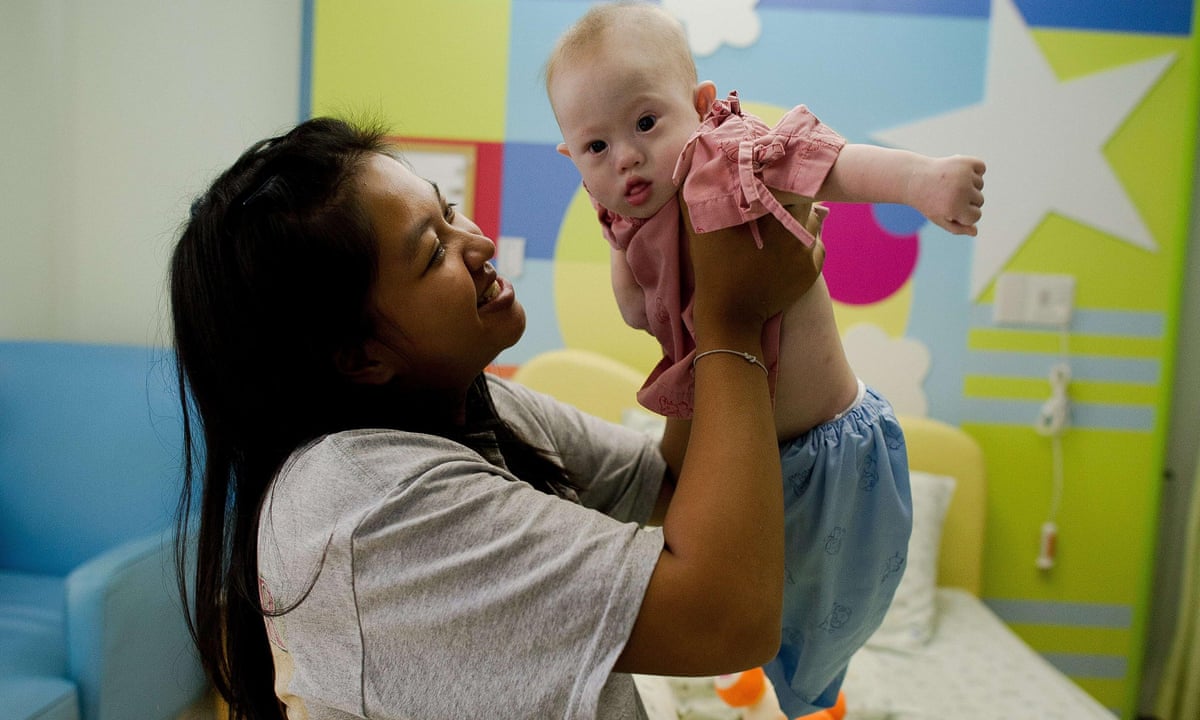 The family court has ruled a West Australian couple at the centre of a surrogacy furore can keep their child, Pipah, the twin sister of baby Gammy.
Justice Stephen Thackray said in his judgment that reports the parents had abandoned Gammy in Thailand and tried to access the infants trust fund were untrue and the result of a media frenzy.
Bunbury couple Wendy Li and David Farnell made international headlines in 2014 when they engaged a Thai surrogate but only took home one of the twins she produced, leaving behind Gammy, who has Downs syndrome.
The surrogate, Pattaramon Chanbua, applied for legal custody of Pipah after learning that Farnell had been jailed for child sex offences nearly two decades ago.
Thackray on Thursday ordered that Pipah continue to live with the Farnells.
Though Farnell, 58, had been convicted of molesting young girls the court found there was only a very low risk of [Pipah] being abused if she stays.
An extensive safety plan has been developed in partnership with the states child protection service and is already in place, prohibiting Farnell from being alone with the child.
It also involves a words and pictures story being read to Pipah every three months that details in terms the toddler would understand the history and method of Farnells crimes and why he is unable to be alone with her.
Farnell was jailed for three years in the late 1990s for inappropriately touching three young girls and making them carry out sexual acts in secretive meetings in a garden shed or at home. He was 25 when the first offence was carried out in 1982.
On Thursday Thackray criticised the media frenzy of August 2014 in which the story was spread all around the world that the Farnells had abandoned baby Gammy because he had Down syndrome.
The anguish this caused the Farnells was exacerbated by the fact that the story was untrue, he said.
The court found the couple had made efforts to take home both children but sincerely believed Chanbua had decided to keep Gammy.
Reports early in 2015 said that the Farnells had been trying to access a trust fund set up for the infant, sparking more outrage. But again the story was untrue, Thackray said.
Thackray said it appeared Pipah had settled into her new home where she is thriving in the care of a loving network of family and friends.
Gammy too appears to be thriving and her mother was in the process of applying for Australian citizenship for the child, although she was adamant he would never live with the Farnells, he said.
He ruled the conflicting accounts between the Farnells and the Chanbua came about because of cultural and language differences.
It was little wonder such misunderstandings arose when a womans body is rented for the benefit of others, he said.
Read more: http://www.theguardian.com/lifeandstyle/2016/apr/14/baby-gammys-twin-sister-stays-with-western-australian-couple-court-orders