Australian voters head to the polls in election cliffhanger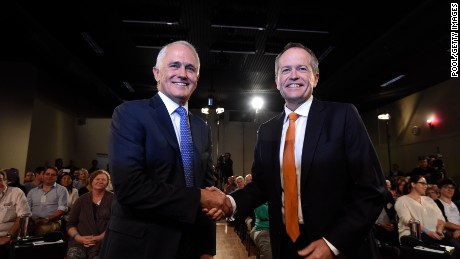 (CNN)Thousands of sausages are being thrown on barbecues across Australia as voters head to ballot boxes for their first general election since 2013.
Polling ahead of the vote suggested a tight race between the center-right Coalition government and the center-left Labor Party, as the final national Ipsos survey
showed the parties evenly matched
.
Prime Minister Malcolm Turnbull, who ousted former leader Tony Abbott in a partyroom coup in September 2015, has been fighting for his political life against Labor leader Bill Shorten during a two-month election campaign, which is unusually long for Australia.
Voting opened at 8 a.m. local time across the country (8 p.m. ET) and will close at 6 p.m., except for Western Australia which is two hours behind the east.
As a result, no Australian leader has faced reelection since 2007, and if Labor leader Bill Shorten wins Saturday's election he will be the country's
sixth Prime Minister in six years
.
In the final national Ipsos poll released on Friday, both parties were locked at 50% of the vote each, after preferences, leaving Labor and the Coalition in a seat-by-seat battle for government.
All eyes will also be on Australia's Senate, the elected body who approves all new laws and legislation, where Turnbull's decision to call a double dissolution election means all 76 senators face reelection.
Turnbull was hoping to get back control of the Senate, but the left-wing Australian Greens and centrist independent politician Nick Xenophon's new party are strong contenders to
hold the balance of power
.
What is at stake?
As Australia's strong GDP growth fails to translate to lower unemployment and high wage growth, both major parties have offered alternate paths to a more prosperous economy.
While the Coalition government has promised
small tax cuts for companies
to improve job growth, the Labor Party wants to tax large multinationals to pay for increases to health and education spending.
"(The Coalition) is emphasizing economic management, stability and long term growth, while the Labor Party is emphasizing education and health, which are their strong points," Australian National University political science professor Ian McAllister told CNN.
"The major problem in the long run is the long-term deficit… we know that government debt can go on forever (and) longer term someone will have to deal with it."
Read more: http://www.cnn.com/2016/07/01/asia/australian-election-polls-open-saturday/index.html