Attack in Nice: World lights up for France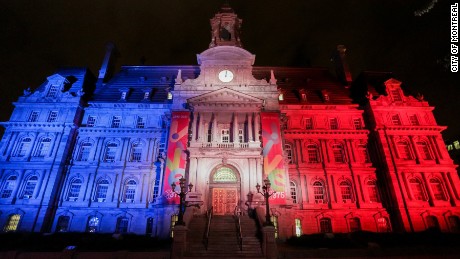 (CNN)After a truck rammed through the crowded streets of the Promenade des Anglais in Nice killing at least 84 people on Thursday, French Prime Minister Manuel Valls said the attack struck the country at its core.
"France has been struck once again in her flesh, on the 14th of July, on the day of our national celebration," Valls said.
U.S. President Barack Obama issued a statement saying, "We stand in solidarity and partnership with France, our oldest ally, as they respond to and recover from this attack."
This display of unity rippled across the world as iconic landmarks lit up in blue, white and red for France as they had after attacks last year.
Montreal, the Canadian city that has deep ties to France, mourned the tragedy that unfolded during Bastille Day, France's national holiday.
"As a gesture of solidarity with the French people, the Hotel de Ville is illuminated in the colors of France and the flag is at half-mast on the balcony," the city said in a statement. "The thoughts of Montrealers are with the families of the victims and their families."
On the other side of the globe, several landmarks in Australia displayed their support. the Adelaide Town Hall in South Australia glowed in tribute to France.
Adelaide town hall with French flag and lighting // #france #nice #adelaide
And the Story Bridge in Queensland illuminated the colors of the Parisian flag across the Brisbane River.
In New York City, the 35-story Helmsley Building displayed the colors of the French flag, brightening the streets of Manhattan late Thursday evening.
As the story of the tragic attack in #Nice continues to unfold, #RXRRealty and #NewYorkCity stands with #France and all those affected. #PrayForNice #PrayersForFrance #NousSommesFranais #NiceFrance
Have you seen other world landmarks lit up in tribute to France? Share your photos with CNN by tagging #CNNiReport on Twitter, Facebook and Instagram.
Read more: http://www.cnn.com/2016/07/15/world/nice-attack-world-landmarks-irpt/index.html