America's Cup: A dream job in paradise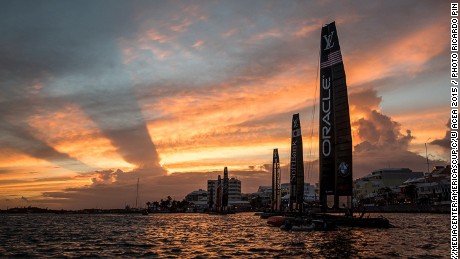 (CNN)Ever thought you're in the wrong job? Fed up with the drag of daily life?
If so, perhaps Matt Cassidy isn't the man you should be talking to — Monday mornings are not a problem for him.
Cassidy has his dream job — he lives on the beautiful island of Bermuda, watches stunning sunsets, strolls along the coast and sails the world's fastest boats.
"I don't think there's been one day where I've said, 'I don't want to be here,'" he tells CNN with a rather understandable smile.
For a man who was brought up on the ocean and has raced on almost anything that floats, it's pretty much the pinnacle.
It's a far cry from the life he and his wife left in Chicago when he was offered the chance to sail with America's Cup champion Oracle Team USA.
They packed their bags and headed off to the North Atlantic island after Cassidy was snapped up by the all-conquering team.
It was a dream come true for Cassidy, who watched from the sidelines in 2013 as Oracle secured the most
dramatic victory in the history of the competition
— fighting back from 8-1 down against Team New Zealand before pulling off one of the greatest sporting comebacks of all time.
So when he got the call to try out for the 2017 team, nothing was going to stop him.
After a successful two-week trial in Sydney, Australia, he signed on and moved his life to Bermuda to start training ahead of Oracle's bid for a third consecutive title.
While the surroundings are idyllic, the workload is intense.
"It's super tough," Cassidy says of his training regime. "Stepping onto these things was like learning how to sail all over again.
"If we're not sailing then we're at the gym twice a day for a one-and-a-half-hour session, from weights to heavy cardio."
Read more: http://www.cnn.com/2016/06/10/sport/americas-cup-oracle-team-usa-sailing-matt-cassidy/index.html