'60 Minutes' Australia fires producer over Beirut child abduction story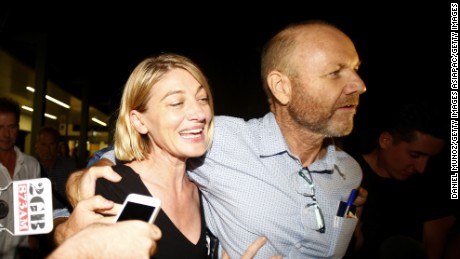 (CNN)"60 Minutes" Australia has fired a producer who was involved in a child abduction story that resulted in its four-person crew being jailed briefly in Lebanon.
Stephen Rice, who produced the story about Australian Sally Faulkner's attempts to take her two children back from her estranged husband in Lebanon, will be leaving the company "effectively immediately," a Channel Nine statement said Friday. The program airs on the Nine network.
The other three staff members involved — TV presenter Tara Brown, cameraman Ben Williamson and sound technician David Ballment — have received formal warnings.
"The manner in which we produced Sally Faulkner's story exposed our crew to serious risks, and exposed '60 Minutes' and Nine to significant reputational damage. We got too close to the story and suffered damaging consequences," Nine CEO Hugh Marks said.
Child snatching botched
The four crew members were arrested by Lebanese authorities after they hired "child recovery specialists" in a failed attempt to snatch Faulkner's children Lahela, 6, and Noah, 4, from a Beirut street as they walked with their grandmother.
According to Faulkner, her children's father, Ali al Amin, took them from Australia to Lebanon and refused to return them. The children remain with al Amin.
The television crew members were eventually released from jail and allowed to return to Australia on April 21.
Four people from Child Abduction Recovery International, who had been paid by "60 Minutes," were also arrested with the crew and remain in custody facing charges.
Nine network promises stricter process
The company said in the future it would review more strictly how stories are selected and approved, and increase oversight on contracts, payments and risk assessments.
The Nine statement added that while civil claims brought by al Amin against the "60 Minutes" crew and Faulkner have been settled, the crew potentially faces legal action from the Lebanese justice system.
To read more copy this link into a new tab: http://edition.cnn.com/