3 Baton Rouge Officers Killed In 'Ambush-Style' Attack
The shooting in Baton Rouge, Louisiana, that left three officers dead and three wounded was a deliberate "ambush-style" attack, authorities said Monday.
Louisiana Gov. John Bel Edwards called the assault a "diabolical attack on the very fabric of society" during a press conference that afternoon.
"That is not hyperbole," he added, also vowing to leave "no stone unturned" in the ongoing investigation into the incident.
Authorities have identified the gunman as Gavin Eugene Long of Kansas City, Missouri. The New York Times reports that Long appears to have posted a video in which he talks about fighting back against police brutality with violence, rather than peaceful protest. Sunday, the day of the shooting, was his 29th birthday.
In an interview with the Times, Louisiana State Police Public Affairs Commander Lt. J.B. Slaton said Long "was targeting officers" and "definitely ambushed" them.
"We are still trying to find out what his motive was," he said, "and that's going to be part of our investigation. But we believe he was targeting those officers."
Authorities have said Long was the only gunman, but are looking for anyone who may have had advance knowledge of the attack or who may been a co-conspirator.
"If there are others out there, we'll bring them to justice," Baton Rouge Mayor Kip Holden said during the press conference with Edwards.
He closed the event with a quote from the Bible that he said symbolized the city's resolve: "Yea, though you slay me, I will rise again…"
Long killed Baton Rouge Police Officers Montrell Jackson, 32, and Matthew Gerald, 41, as well as East Baton Rouge Parish Sheriff's Deputy Brad Garafola, 45.
Another deputy was critically wounded, and two officers suffered injuries that were not life-threatening.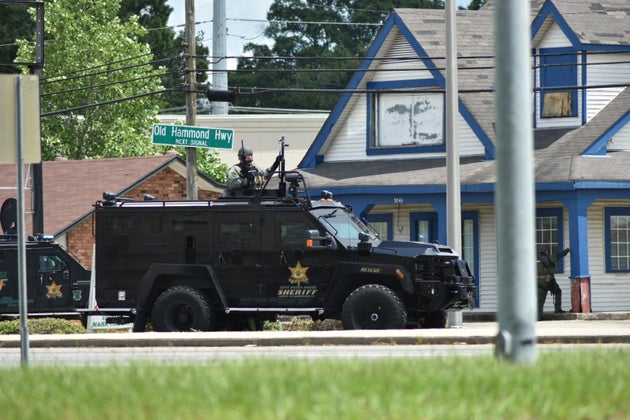 [googlemaps https://www.google.com/maps/d/embed?mid=1jKDjXbubn5SBjEypbWZ4TUudigk&w=570&h=480]
Read more: http://www.huffingtonpost.com/entry/baton-rouge-police-officers-shot_us_578b9c19e4b03fc3ee51383b