10 High Street stores of 1976 that have disappeared – BBC News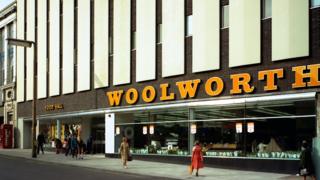 The futures of Austin Reed and British Home Stores are under threat. But what other well-known High Street stores have disappeared over the last 40 years?
It's 1976 and you're out shopping. If you want to buy a record or some sweets, try Woolworths. Shoes? Have a look in Freeman, Hardy and Willis. For a dress, shirt, trousers or other clothing, go to C&A.
If you need to withdraw some money, there's a good chance you'll have to queue in the Midland Bank. And for tonight's dinner, you might pop into Dewhurst for some meat and Fine Fare for the rest of the food shop.
So, what happened to these and other shops whose logos once dominated the High Street?
Woolworths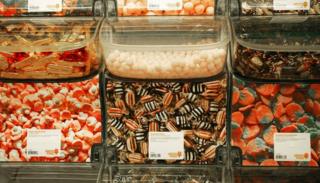 The US-founded store, which opened its first UK branch in 1909, selling goods ranging from hardware to boiled sweets, records to toys, was a fixture until the company entered administration. All 807 stores held clearance sales, with the last branch, in Glasgow's Argyle Street, closing in January 2009. Around 30,000 people lost their jobs.
Woolworths – nicknamed Woolies and known for its Pick 'n' Mix self-service sweet counters – suffered from increasing competition.
"The High Street has always changed rapidly," says Neil Wrigley, professor of human geography at Southampton University. "In recent years it's had competition from online retailers, which had almost no market share before the year 2000. And there's been a movement towards more services, such as coffee shops." There was a very difficult period from 2008 to 2012, but that seems to have ended, he adds.
There have been several reports of a planned revival of Woolworths in the UK, but these have come to nothing.
Dixons
The electrical chain, founded in Southend, Essex, in 1937, closed in 2006. Many of its High Street branches were rebranded Currys.digital. Dixons remained as an online brand, but later this also came under Currys.
The Dixons name came when founder Charles Kalms flicked through a telephone directory, looking for inspiration.
C&A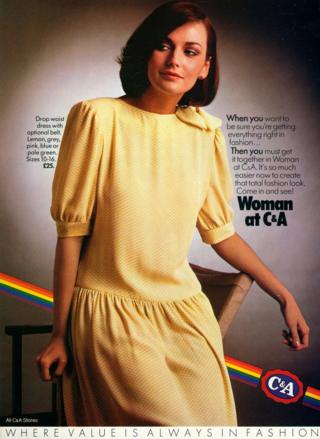 The chain of clothing stores announced its withdrawal from the UK in 2000, with the loss of 4,800 jobs. Its 109 shops had come under increasing competition from other mid-market clothing retailers, such as Gap and Next, the company said. The last UK stores, in Hounslow, west London, and Bradford, closed in May 2001.
Founded in the 1920s by the Dutch brothers Clemens and August Brenninkmeijer, C&A, at least in the UK, was accused of failing to move with fashion and recorded several losses in the late 1990s.
"Some shops lost their consumer demand," says Wrigley. "People didn't want clothes that their mothers and fathers would've wanted. It's similar to what appears to be happening at BHS now." C&A continues to trade across much of Europe.
Athena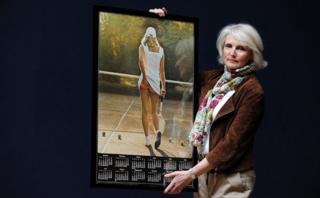 In 1976, the store selling art prints, cards and stationery was a growing presence on the High Street. Perhaps its most famous poster image, Tennis Girl – a photograph of a young woman baring her bottom while playing tennis – was taken during the summer of that year.
There were more than 20 stores by 1979 and 165 by the mid-1990s, but internet competition hit it hard. The last Athena store, in Exeter, closed in 2014, 50 years after the first had opened in Hampstead, north London. But the company remains active online.
The High Street trading environment had become "very difficult" by the 2000s, says Simon Coates, one of Athena's directors. "Athena really struck a chord when it started," he adds. "It became part of many people's Saturday to buy sweets from Woolworths, a CD from HMV and a poster from Athena, but other retailers started stocking stuff like we sold, stuff they'd never have sold before. The supermarkets started selling greetings cards and then there was the challenge from the internet. Anyone could print their own art online."
Coates thinks Athena remained too long on the High Street, while being charged "huge rents and rates". The company, which once employed around 1,000 staff, now operates from premises near York. It no longer sells prints of Tennis Girl.
Radio Rentals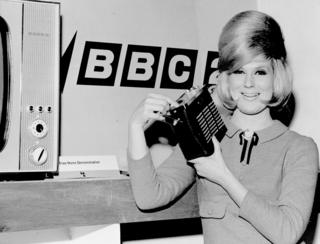 Set up in a back street in Brighton in the 1930s, Radio Rentals catered for a growing demand for radios. The rental model continued through the introduction of television and, later, video cassette recorders – about to take off in 1976.
During the late 1970s a newspaper advert for a long-play video recorder mocked a national obsession with the ITV soap opera Crossroads, known for its wobbly sets and criticised for the standard of its acting, stating: "It can take 16 episodes of Crossroads (if you can)."
But, as consumer electronics became cheaper, more people bought radios, TVs and video recorders. Radio Rentals gradually became amalgamated into the TV and domestic appliance rental firm BoxClever. The Radio Rentals brand continues in Australia.
Freeman, Hardy and Willis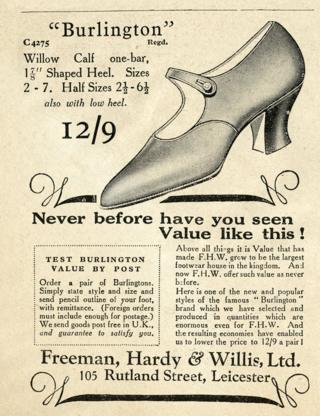 The shoe manufacturer, with beginnings in Leicester in the 1870s, became a familiar presences in hundreds of High Streets.
A series of adverts in the 1950s referred to it as "our happy family shoe shop".
Freeman, Hardy and Willis (sometimes known simply as Freeman, Hardy, Willis) became part of the British Shoe Corporation and ceased trading in the mid-1990s.
Comet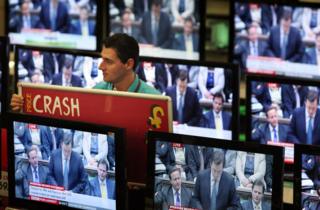 Founded in 1933 as a business charging radio batteries, Comet opened its first store in Hull in 1968, expanding rapidly after that.
There were 236 stores when it went into administration in November 2012, reduced to 49 by the time the final closures happened a month later. Comet ran up losses of 95m in the year to April 2012.
Dewhurst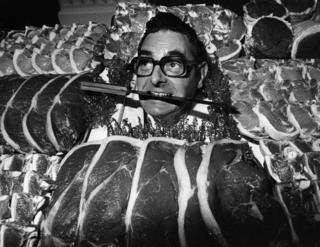 The chain of butchers shops, founded on Merseyside in the late 19th Century, had 1,400 outlets by 1997 but went into administration in 2006.
Its traditional model faced increasing competition, says Phil Lyon, a gastronomy lecturer at Queen Margaret University, Edinburgh. "The supermarkets started packaging meat in plastic containers, so it became commodified, rather than people wanting to request specific cuts or a certain weight of minced beef or steak," he adds. "There was also a bit of a move away from red meat to white meat, which didn't help."
In recent years there's been a resurgence of individual High Street butchers in many areas, Lyon says, but these cater for more of niche market than that once dominated by Dewhurst.
Fine Fare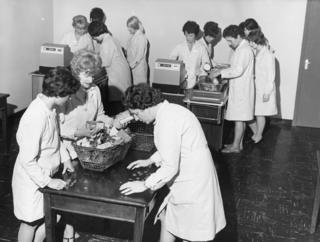 The supermarket, established in Welwyn Garden City, Hertfordshire, in the 1950s, expanded during the 1960s and 1970s.
It was name-checked in the song Aisle of Plenty from the 1973 Genesis album Selling England by the Pound, a satire on consumerism. In it, a woman who says she feels she doesn't belong in modern society decides to "co-operate" because she realises she's "thankful for her Fine Fare discount".
In 1986, the BBC's Domesday Reloaded project spoke to customers at the Fine Fare branch in Bishopbriggs, East Dunbartonshire, reporting that "they liked to shop for everything in one place. They found the self-service convenient and quick."
But people, in the age of expanding car ownership, wanted even more convenience, according to Wrigley, who has investigated the subject for the Economic and Social Research Council. "We went through a period of out-of-town shopping increasing in the 1960s and later," he says. "Fine Fare would have been one of the companies that suffered as the big supermarkets like Sainsbury's and Tesco expanded. But that's been reversing in recent years, with the High Street taking back trade from the out-of-town stores."
Fine Fare was sold to the owner of Gateway in the late 1980s and the stores were rebranded.
Midland Bank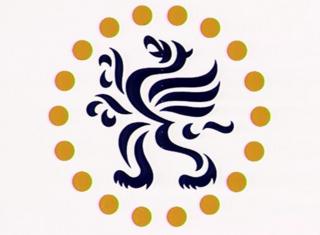 With its distinctive griffin logo, Midland was one of the "big four" UK banks in the 1970s, along with Barclays, Lloyds and NatWest. In 1958 it had become the first UK bank to offer unsecured loans and, in 1966, the first to provide cheque guarantee cards.
Midland, established as the Birmingham and Midland Bank in 1836, was taken over by HSBC in 1992 and its branches were renamed HSBC from 1999. HSBC says this change provided a "clear and consistent identity".
"It can feel like a bereavement when we lose a High Street brand," says Lyon. "There's an instant reaction to the loss of something familiar, but it tends to fade away."
Follow Justin Parkinson on Twitter @justparkinson
Subscribe to the BBC News Magazine's email newsletter to get articles sent to your inbox.
Read more: http://www.bbc.co.uk/news/magazine-36148788